When I say anyone about my hunting experiences, my friends laugh at me by saying, I am a terrible hunter. I don't know what it is, but I just can't seem to nail a deer down. It's not that I don't have the skill or the knowledge; in fact, quite the contrary. But somehow, each time, no matter how much effort and preparation I put into stalking and hunting game animals; somehow something seems to go wrong, usually within my scope.
That was until last year when my buddy helped me pick out a spotting scope for deer hunting specifically. After trying several different brands of scopes, we landed on one that fit both our needs and budget perfectly. But finding out some of the best spotting scopes for hunting can be challenging. So, to help you out in your quest, I've put together this best spotting scope guide that will recommend the best scopes specifically tailored for hunting.
What are the Best Spotting Scopes for Hunting?
Here are the Top 10 Best Spotting Scopes for Hunting I recommend:
10 Best Spotting Scopes for Hunting (Review)
What will you get from here today in this guide? Firstly, I will go over what spotting scopes are best for hunting. Secondly, I will detail the features of each scope and why it's the best one for your hunting purpose. Finally, I will highlight some pros and cons of each scope to help you make the best decision for your needs. I am sure that by the end of this guide, you will have a much better understanding of what spotting scope is best suited for your hunting needs and be able to spot the target easily. So, without further ado, let's jump right into it:
Hunting is a special activity that can be enjoyed by people of all ages. It's a great way to spend quality time with family and friends or just by yourself. But you know what? Without a spotting scope, hunting can be quite a difficult endeavor. A spotting scope can help you spot the prey from far away and make the hunt much more successful.
The Celestron Ultima 80 angled spotting scope is designed specifically for hunting. It comes with a 20-60x zoom eyepiece which will give you plenty of magnification to spot the target easily. The scope also has multi-coated optics, which will offer superior clarity and resolution. These are just common features of it. Let's see what unique features are there in Celestron ultima 80:
45 degrees viewing angle:
Hunters often need a scope with a wider viewing angle. This is to allow them to spot the target from farther away without having to crane their neck. The Ultima 80 spotting scope has a 45-degree view which will give you just that much-needed flexibility.
Sharp zoom:
When we try to zoom higher into the view of our target, we often start to see blurry images. That's because magnification doesn't always mean quality image clarity. The zoom of the Ultima spotting scope is wonderfully sharp, which will give you clear images every time you use it for hunting or bird watching.
Great customer support:
If you feel like something is wrong with your spotting scope, don't worry, Celestron offers terrific customer support. They have a team of experts who are available 24/7 to help out with whatever lens issue you might be having.
Why it's best
Hard to believe, but there are more than 7.8 m people only in the US itself who love shotgun hunting. The funny fact is most of them don't even know about the best shotgun scope for hunting. And what about those of you who want to spot your prey from far away and make the hunt much more successful? If you are looking for a quality spotting scope that can be used both in close-range spotting of small game as well as long-range hunting of larger mammals, then the Celestron Ultima 80 angled spotting scope should definitely be at the top of your list. Yes, it's the best scope in its class and offers unbeatable quality for the price. Not to mention, the customer service is second-to-none.
How many times did you stop yourself from buying a spotting scope just because it costs too much? Price tag matters especially for me; I can't really put down a sum of money on something that I might not use again. After a lot of research and trying out several spotting scopes, the Athlon Optics Talos 20-60×80 spotter scope ended up being my number one choice. Ok, I won't take a long time to review it. Let's see what features it comes with:
Long-range viewing:
Every hunter needs a scope that can spot the prey at long range. The Talos 20-60×80 spotting scope offers amazing clarity and magnification, thus making it possible to spot your game from a great distance away.
High-quality lenses:
No matter how high of a price tag accompanies the spotting scope, if its lens isn't of high quality, then you might as well not waste your time and money. This isn't the case with the Athlon optics. It comes with top-quality optic glass that gives you a clear view of any target.
Reasonable price:
The most impressive of all is that the spotting scope doesn't come with a high price tag. In fact, it is priced affordably for most people.
Why it's best
Why? Still, you are looking for reasons! Ok fine. I think It exceeds most of its competitors on almost all counts. It offers higher magnification and a wider viewing angle and comes in a 20-60x magnification range. This range is perfect for hunting sessions. Yes, I do like it. And, the clarity of the lens is amazing, and it has been a lifesaver on more than one occasion. Plus, it's lightweight and compact enough to take with you anywhere you go without hassle. Don't you think these are enough reasons to choose this spotting scope as your top pick?
The word "Oscar" actually suits our third spotter scope rather aptly. This optic is designed for those who value both performance and quality. I adore the Sig Sauer optic brand. I am a big fan of their firearms and optics, so I knew this spotting scope was going to be good. Plus, it has excellent reviews. After considering every reason to choose this scope, I am confident that it deserves a spot on this best spotting scopes for hunting list. Why? I will tell you later, but before that, let's dig out what features it offers:
Low dispersion:
How many of you have ever thought of that? Most of the time, when we spot a deer or other animal from afar, the image appears fuzzy and undefined. But not with this scope. It has low-dispersion lenses which minimize lens distortion and makes for an impeccably clear image.
Multi-position twist-up eyecups:
With Sig Sauer eyecups that can be rotated to your preferred eye relief. This is especially handy if you are using the scope for long periods of time.
Seconds of repeatability:
This scope has amazing long eye relief, which means that you can place it on your rifle without having to worry about its placement shifting throughout the hunt. Plus, once locked into position, this scope stays put even when subjected to recoil and shock. Tell me, how amazing is it?
Why it's best
Well, I have already outlined the best reasons to buy this scope, but I know you want to hear more. Don't worry; I still have some more good news. Its design might look normal and boring, but don't let that fool you. This optic is designed for hunters who want to get the best performance out of their optics without having to break the bank. In fact, it retails at a fraction of what high-end spotting scopes cost.
The best part is its stabilizing eyepiece. This feature ensures that the scope remains stable even when you make quick and unpredictable movements while hunting. I definitely highly recommend this scope for anyone looking to get the best spotting experience when hunting.
Hunting is a hobby that requires a lot of time and concentration. Just imagine you are hunting in a place where it's completely dark. There is no light source, and you are hunting in an unfamiliar environment with high-quality optics required.
In this case, spotter scope is the best option for you. You need a scope that can spot targets in low-light conditions, and our fourth vest hunting scope fulfills this requirement. It's perfect for low-light hunting where illumination is scarce. Which one? Well, I am talking about none other than the Vortex Optics Viper spotting scope. Here are its key features:
XR anti-reflecting coating:
Wondering what this feature offers? This coating minimizes the reflection of light, making spots in low-light conditions easier.
Smooth helical focus:
This feature makes it easy to adjust the focus of your scope. This is especially important when hunting in low-light conditions, as you need to be able to spot the target accurately and reliably.
Durable construction:
The Vortex Optics Viper HD spotting scope is built with durable materials that make it withstand tough use in the field. You don't have to worry about it breaking or deteriorating under pressure, which is great news.
Why it's best
Yup! Again it's time to justify our fourth spotter scope as the best one out there. It has a bunch of features. From built-in sunshade to helical-focus eyepiece, this scope does it all. And if your main concern is with the performance in low light, the vortex optic viper HD spotter scope is your best bet. Also, I know how it feels when you have to lug around a heavy scope all the time. And it doesn't matter if it's because of the weather or your location; spotting in low light can be quite difficult. So, do yourself a favor and buy it today.
We are now in the middle of our best spotting scopes for hunting list. As like we said before, the objective of this roundup is to help you find the best scope for your needs. With that in mind, the Celestron Regal M2 spotter scope takes our number five spot on this list. What makes it so great? Well, besides its top-tier features and quality construction, one of the things that strike us most about this spotting scope is its perfection for outdoor usage. It's not too expensive, nor does it come with unnecessary bells and whistles. It is just what you need to get started hunting or birding.
Premium lenses:
My biggest concern with a spotting scope is the quality of the lenses. Thankfully, the Regal M2 spotter scope comes with high-grade lenses that offer clarity and contrast.
DSLR camera supported:
Another great feature of this scope is that it supports DSLR cameras. This means you can take high-quality photos and videos using your camera lens without having to buy an additional spotting scope tripod or mount.
Accessories included:
You will love to know that the Celestron Regal M2 spotting scope comes with a tripod, lens caps, and eyepiece covers. I am sure this makes it easy to take your spotting scope Hunting or birding without having to worry about missing any of the action.
Why it's best
It's perfect for those of you who are serious about your outdoor activities. Its 22x-67x magnification level, coupled with high-quality lenses and camera support, makes them one of the best spotting scopes on the market. Also, the eyepieces are interchangeable, so you can customize your spotting scope to best fit your needs. With this model, it's easy to get started spotting in no time at all.
Tell me, who doesn't want to take great photos and videos of their hunt or birding expedition? With our sixth-best spotting scope, you can achieve just that. I know at this point of this article you are looking for something that can spot game in a scope better than binoculars. Well, the Kowa TSN-770 spotting scope is perfect for you.
With its magnification level and optic quality, and a few more features, this spotting scope will give you the exact performance which you have been looking for many years.
Polycarbonate materials:
You know what? The Kowa spotting scope is actually made of durable polycarbonate materials making it lightweight and easy to use. Plus, this material makes the spotting scope shock-resistant and fog proof.
Comfortable:
Nothing matters to me more than comfort when out in the field spotting prey. I like spotting scopes that are lightweight and made of durable materials, like the Kowa spotting scope.
Design:
The next impressive feature of the Kowa spotting scope is its design. Yes, it looks exquisite, but it's not only about the appearance of this scope; its performance is top-notch as well.
Why it's best
Don't you think your spotting scope is a valuable tool that you can take with you wherever you go? And for that reason, you should pick the best spotting scope for hunting that is both lightweight and durable. The Kowa TSN-770 spotting scope meets these requirements perfectly. Plus, its quality makes it an excellent choice for anyone who wants to enjoy their hunting time.
I know many of you were waiting for the Bushnell show. You will find many hunters who are fans of the Bushnell brand, and the unisex adult Bushnell Trophy Xtreme spotting scope 20-60×65 is their best product yet. Ok, you don't have to hide your manhood to get a spotting scope. This optic is designed for all-weather performance, so whether you're hunting in the rain or freezing cold, it will keep up. And what features would you expect from Bushnell spotting scope? Let's see:
Fully multi-coated:
Let's start with the best one. Yes, it's fully multi-coated, which means it's got a lot of lenses to help improve clarity and image quality.
Built-in class brightness:
The brightness of a spotter scope is extremely important, and this model has a built-in class brightness to ensure that you see everything clearly.
Extra power:
Also, this spotting scope has extra power for better magnification and clarity. Basically, the more clarity you can see, the better your chance of hitting your target. Trust me; You won't miss a thing when hunting with this optic.
Why it's best
Tell me a few reasons why it's not the best. Yes, it's true that every scope has some flaws, but this Bushnell spotting scope really shines. So, here are a few of the best reasons why you should consider getting one for your next hunting trip. First of all, its 20-60x magnification is no way little for hunting purposes. And it's Porro prism lens construction ensures excellent light transmission. It also offers 45 degrees angle of view and a wide field of view, so you'll be able to spot your prey from a great distance. However, I am satisfied with my choice.
Hello to the new generation! You know what? Nowadays, spotting scopes are adopting new technology to give you a much better view of your target. One example is the Redfield Rampage 80 spotting scope. I know this brand is not as famous one like Nikon and Bushnell, but I am confident that this spotting scope is worth your money. What I love about it are its unique capabilities. What are those? One of them is that it features an impressive hd resolution, making it one of the best spotting scopes for hunting on the market today. What's more? Let's find it out:
Day/Night hunting:
This scope is that it's perfect for both daytime and nighttime hunting. This means you can use it in any light condition, whether the sun is shining or there's a moon out.
HD sensors:
It's an OMG feature for me. The scope uses high-quality HD sensors to provide you with clear images. I can't express to you how helpful this feature is for hunters.
Ballistics calculator:
One of the best features of this scope is that it comes with a ballistics calculator, which can help you hit your target accurately and easily. So if you're someone who likes to know all the details about their shots, then this spotting scope is definitely for you.
Why it's best
Ahh, man! Trust me; you won't find a better spotting scope for hunting on the market today than the Redfield Rampage 20-60×80 spotting scope. Plus, its unique capabilities make it one of the best options out there. Just look at it; its classic ergonomic design paired with HD resolution make it more appealing.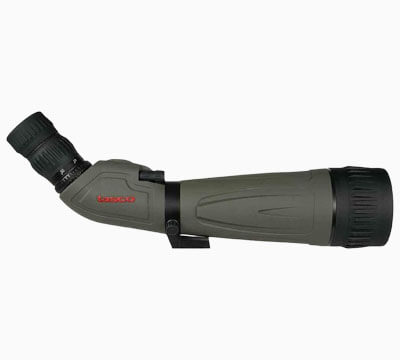 This is another highly affordable spotting scope for you in our best spotting scopes for hunting lists. This Tasco spotting scope is a great deal for beginners and pro hunters alike. With its 20-60x zoom eyepiece, angled view, and 60mm objective lens, you'll be able to get clear shots of even the smallest game out there. Not only does it offer great range and clarity, but it can also withstand some bumps from your field of view due to its rubberized body.
High contrast viewing:
The best spotting scope for hunting is one that's able to offer high-contrast viewing, so you can spot any movement in your range of view. With the Tasco spotting scope, we can get it easily.
60x zooming:
It's great news for hunters who like to zoom in for a closer look at the target.
Affordable and compact:
I appreciate how this spotting scope is not only affordable but also compact.
Why it's best
If you think it's not the best, then I am ok with your statement. It's not really that best in comparison to other models in our list of best spotting scopes for hunting. But don't you think the price tag, which is around 100$, makes it a great spotter scope? The best part of this spotting scope is the price, followed by its compactness and high-contrast viewing ability.
Ok, one good news for you is we are at the last model on our best spotting scopes for the hunting list. But don't worry; it definitely doesn't mean that it's not one of the best spotters out there. This Barska spotting scope is great for a variety of reasons. But first, let me tell you why I choose this one. For starters, it is high-quality and durable. It's also lightweight and compact for easy transport and storage. And best of all, the 20x magnification lens offers ample viewing power to spot any movement in your range of view. There are more for you below:
Waterproof and fog proof:
Who doesn't want to spot their game in any weather condition? This scope can take a beating and still remain functional.
Performance:
The overall performance of a scope helps a hunter spot their target with ease. This scope offers 20x magnification and a 60x objective lens that makes spotting easy and enjoyable.
Premium hard case:
I like this feature of the Barska spotting scope because it comes with a quality hard case. Not only is this a great protection for your scope, but it also makes transporting and storage easy.
Why it's best
So, you are now wondering why it's best. Well, that's because it actually offers many features. Yes, these features might be common, but they are definitely worth your attention. Just don't say I haven't told you about this Barska model before. What I like most is it has multiple numbers of different models of higher specifications. Also, not just is the magnification high, but it also comes with a quality lens. All these factors make this scope great for spotting any hard conditions. So, before you regret not getting it, go ahead and order yours today.
Final Words
The models we have listed here are some of the most reliable ones on the market today. Moreover, these have been used by many famous hunters. Therefore, they hold great potential when it comes down to reliability and performance. One such product that stands out is the Bushnell unisex Model. And that ATN X-sight spotting scope is another great option for the spotting game. From powerful long-range model Kowa TSN that allows you to zero in on your target from far away to compact Tasco, which can easily fit into your bag, all these scopes will make your hunt exciting.