If you want to increase efficiency during target shooting, you must use quality binoculars. But what defines the quality of the target shooting binoculars? Like other outdoor activities like hiking, birding, and wildlife viewing, we always focus on magnification, objective lens, lens quality, etc. And, we found so many options for them. But when you are choosing a binocular pair for target shooting, you need to be more careful. Because a successful shoot depends on the steadfast, optics quality, color clarity, and distance accuracy. The pair must have the balance of all of these features if you want to become a pro-target shooter. So, in this article, we are going to introduce the 8 best binoculars for target shooting with proper buying guidelines.
What are the Best Binoculars for Target Shooting?
Here are the Top 8 Best Binoculars for Target Shooting I recommend:
8 Best Binoculars for Target Shooting (Review)
If you ask for shooting binoculars, I will suggest going for the rangefinder binoculars. You will ask why. Let me explain- Rangefinder binoculars come with magnification power and range measuring power together. You can easily understand how far your target object is. In target shooting games using a gun, pistol, or air rifle, you can easily hit your target. Not only that, for hunting, determination of the right range is crucial for a successful hunt.
Here I am presenting the Bushnell 7×50 rangefinder binoculars for target shooting. This is a complete package for hunting or shooting games. What isn't in it? The magnification power is 7x so that it can deliver 7 times closer and more detailed view to you.
The 50mm bigger objective lens renders a clear and bright image of the detailed output. You have to keep your eye steady for a long time to do target shooting. So, your eyes' comfort is very important. This pair will provide a 7.14mm exit pupil distance to ensure comfort during target shooting.
The in-built rangefinder can accurately measure the actual distance from you to the target. That makes it easy to shoot on the object you want. This binocular will protect you from the wrong direction by the inbuilt compass. The compass is liquid filled and easy to read up to 1-degree increments. Moving to the other features, this binocular features Porro prism attachment which ensures the depth of perception every time.
The Bak-4 optics enhance the image quality so far. Also, the focusing system is fast and easy. The optics are fully multi-coated. it can prevent UV rays on hot sunny days. When you hunt or do other shooting activities, this pair protects your eyes. Not only protect from the sun, but this rangefinder binocular is also waterproof and fog proof.
The o-ring sealing and nitrogen filling ensure the proper protection from water and moisture. You can use this at any season. The field of view is large, it comes with a wide 350 feet field of view at 1000 yards. The body is also durable as well as covered by rubber armor. This air offers a non-slip, firm grip. It can withstand corrosion from salt water or hard water. Overall, it's a great deal for target shooting.
You don't have to be a professional hunter or outdoorsman to appreciate the value of a good pair of binoculars. Many people enjoy target shooting as a hobby, and there's no better way to improve your accuracy than by using a high-quality pair of binoculars designed specifically for that purpose. So now, I am sharing a versatile pair for target shooting from beginners to professionals.
That is the Athlon optics neos G2 8×42 binoculars. This binocular comes with standard magnification power as well as a decent width of the objective lens. This combination is perfect for any type of activity like birding, hiking, wildlife viewing, sports along with target shooting.
Now I am going to break down why I have picked this particular pair among various 8×42 binoculars. Despite the magnification power and size of the objective lens, this pair is designed with HD glasses. It can produce crystal-clear images of your target. That will enhance the chance of a successful shoot.
This binocular is designed with phase-corrected prisms. You will get accurate and color-corrected output with better contrast as well as higher resolution. The Bak-4 prism can relieve maximum lights to deliver edge-to-edge sharp images of your target. The multi-coated optics will reduce the glare and enhance the clarity so far.
When you want to shoot any of your targets, you need to stabilize your eyes and sometimes you have to see through the binoculars for a perfect shot. This may lead to eye fatigue. But this binocular exit pupil's distance is more than enough to provide a comfortable viewing experience for longer period sessions.
If you wear eyeglasses, adjusting the binoculars may seem difficult. But the 17mm long eye relief makes it fit your eyes. The twist-up eyecups allow custom fit so this binocular is suitable for kids too.
If you ask about the field of view, you will wonder if the field of view is 367 feet at 1000 yards. So you don't need to change the focus or position. It will cover a large area at a time. Not the end, it is waterproof and fog proof. The rubber armor makes it durable as well as anti-slip in wet conditions. The packaging comes with lens cleaning cloths, a padded neck strap, a carrying case, and a lens cup as well. And, you will get these binoculars for under $100 which is a worthy investment.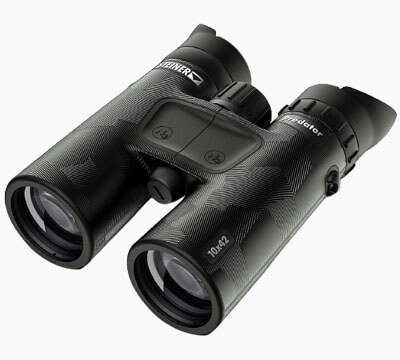 If you are a beginner or professional shooter, you must know that focus is the most vital thing to make a perfect shot. For this reason, an automatic focusing binocular can play a crucial role in making an accurate shot.
So, here I am presenting an automatic focusing binocular for all of you and that is the Steiner Predator 10×42 binocular. You will be amazed by its features and performances. You will get 20 yards of automatic focusing capacity. There is no wheel knob in the middle of this pair. The wheel-free open bright design will attract anyone's eyes at the first sight.
The body material is highly premium ensuring the highest durability. This pair is Rainproof IPX4 which means whatever the direction is, it can prevent water splashes. Interesting right? After that, the lenses are coated by CAT color adjustment. That means it can deliver the highest contrast matching with the peak of the sensitivity of the human vision.
The military-grade Porro prism attachment ensures superior image resolution. Furthermore, the field of view is also larger and it is 381feet at 100 yards. So, scanning your surroundings will be more easy and simple.
The silicon-made eye cups are easy to fold as well as adjustable if you wear glasses or sunglasses on a hot sunny day. The 3D depth enhancement property ensures a crystal clear view of any situation. Moreover, the rubber armor provides a firm and non-slip grip even in rain. But what about the magnification power? Well, the number 10×42 already defines these.
It is engineered with 10x magnification power along with a 42mm objective lens to render detailed and bright images. Also, it provides a 4.2mm exit pupil distance and ensures a smooth viewing experience. It's not the end! The company also provides a heritage lifetime warranty free of cost. What else do you want?
Is it possible that I am reviewing binoculars and Nikon is absent? So this time, I am introducing the Nikon Aculon A211 8×42 binoculars which are a great choice for target shooters.
The noteworthy features that make them perfect for the task are the magnification ability, bigger objective lens, close focusing system, rugged construction, eye-catching design as well as affordable price point.
The 8x magnification is ideal for this purpose because it will provide plenty of power to produce a close and detailed view of your target. The 42mm objective lens is assigned to render the magnified image more clearly and brightly in front of you for a perfect shot.
The main advantage of moderate magnification is the pair can provide more field of view. As this pair is engineered with 8x magnification power, the field of view is 420 feet at 1000 yards! Can you even imagine how much you can spot without changing your vision?
For the 8×42 specification, you will get a 5.25mm exit pupil distance that will be beneficial in a smooth viewing experience during a long extended period in target shooting practices. The turn-and-slide eye cups, as well as 12mm eye relief, will help to customize as per your eyes.
When we look at the design part, this pair is made of eco-glass. But don't hesitate to buy thinking this will be fragile easily. This eco-glass construction is durable as well as helps to deliver bright and clear images.
The multi-coated lens enhances the clarity of the targeted objects even in low light conditions. Though the pair is not fully waterproof, it has rubber armor for providing a strong and anti-slip grip.
Finally, this pair is backed by Nikon's lifetime product limited warranty as well. You will own this amazing binocular spending around $100 so it can be a great partner in your every perfect shooting.
If you are a target shooter, you will appreciate the Vortex Optics Viper 10×42 for its clarity and durability. It comes with 10x magnification power to bring your target closer to you. The 42mm objective lens makes the output bright and sharp.
The body is made of composite material with rubber armor. That ensures the durability of this pair for years to years. After that, I chose the vortex viper series for the roof prism attachment. That makes the image quality outstanding, keeping the weight lighter.
The multi-coated lenses are super quality to render high-resolution and color-corrected images. The included lens cleaning cloths help to keep them free of dirt after every use. You will get a glassPak chest harness with this full-size binocular.
When you go on a long hike or you need to carry binoculars, you can use this harness to carry the binoculars safely. What about the focusing system? Well, this binocular is designed with fine and quick focus control with a smooth wheel.
It will support right eye diopter focus to your eyes. This pair offers 5 feet of close focus too. The twist ensures you will get a comfortable viewing experience during the shooting time,
The 4.2mm exit pupil distance also helps to provide a smooth viewing session. If you wear glasses, you may worry about the eye relief distance. Don't worry, this pair has a 17mm long eye relief distance which is appropriate for eyeglass wearers as well as non-wearers. Overall, eye relief can be customized.
Furthermore, the field of view is 341 feet at 1000 yards. If you love hunting, then this wide field of view is beneficial for you. And obviously, this pair is waterproof and fog-proof as the manufacturer is Vortex Optics. It also comes with o-sealing as well as Argon filling. So, you will be sure that this pair will withstand dirt, dust, corrosion, and scratches.
When I thought of reviewing binoculars for target shooting, why not pick a zoom binocular here? So, now I am going to review the Barska 8-24×50 binocular pair for the target shooter. This type of zoom binoculars is most helpful for the beginner shooter as well as for hunters.
Hence, they can practice and precisely shoot on their target using the higher magnification setting. You can magnify the targeted objects from 8x to 24x closer. You will be able to see long-distance objects in detail.
The 50mm diameter objective lens makes the output clear and bright to make a perfect shot. When I talk about the field of view, I was wondering if it offers 225 feet at 1000 yards which is pretty good coverage for a zoom lens. If you observe at lower magnification, you can scan more areas at once.
This zoom binocular is designed with Ruby lenses which will protect from UV rays. Reduce the glare on sunny days to provide color-corrected images. The optics are multi-coated as well as have an anti-reflection coating. The anti-reflection coating helps you to focus on the target without any distortion.
So far, this pair is super durable and can withstand collisions and rough usage. Additionally, it can resist water, fog, and moisture as well. And, this pair offers all of these features and high performance at under $50. Not only these but also the carrying bag and neck strap are also included. Also, the company offers a 1-year product limited warranty too.
Of the 2 types of the prism, the roof prism is more popular for portability. But do you know, that Porro prism provides more quality full images? For that reason, I have chosen the Olympus Trooper 10×50 binocular which is designed with a Porro prism.
Not only for prism type, but this binocular pair also has so many amazing features which make it appropriate for target shooters. As the name shows, this binocular comes with 10x magnification power. Whether you hunt or play shooting games, this power will provide detailed images of your target.
Not only for shoots, but you can also use it for other activities like hiking, wildlife viewing, whale observing, and so on. In all cases, it will be able to provide bright and clear images for the large 50mm objective lens. You will get a 5.0mm exit pupil distance that ensures a smooth viewing session. You can use this pair in dim light conditions too.
Moving to the other properties, this binocular has a 342 feet field of view to track everything around you. Also, the 12mm eye relief distance is suitable for kids too. When I look at the optics, that will blow my mind, and will yours too.
The optics are fully multi-coated as well as come with UV protection. These will protect your eyes from the harmful rays of the sun. You can go target shoot or practice even on hot sunny days also.
What about in the wet condition? Well, this pair is waterproof and fog proof. No need to worry about using it in rain or wet weather. The focusing system also impressed me. It comes with a central focus knob so that you can easily adjust the focus so quickly. The anti-reflection coating on the lens helps to focus on your target accurately.
In the end, this pair is built with higher quality. It comes with a rubber exterior to provide extra protection and a firm grip. If extra weight doesn't bother you, you can go for this pair for outstanding quality. And, for all of these reasons, I have to pick this pair in the 8 best binoculars for the target shooting review section.
Our last selection is a night vision binocular for target shooting. If you prefer shooting at nighttime or in low light conditions, this pair should be your consideration. Creative XP night vision binoculars will be able to give you a clear view of your target, which makes it easier to hit your mark. You can use this pair in the daytime too. It's a perfect bundle for a binocular lover.
The settings are easy to use, so you can focus on your shooting skills rather than trying to figure out how the binoculars work. The optics are fully multi-coated. At the same time, it can cover 100 feet without any light and that is great for hunting at night.
The battery life is up to 6 hours in infrared mode. But you will wonder if the battery will last if you use it in non-infrared mode. Though it required 6AA batteries which are not included. But the performance is worth the price range. Well, you will magnify any targeted objects 3 to 4 times closer to you. And the 25 mm objective lens can make the image bright and clear in front of the 2.31-inch TFT display.
You can store the images as well as videos on the 32GB SD card. The photo and video quality are also outstanding; they will record at 980p resolution. You will get a card reader slot too with these binoculars. So transferring and sharing media files at a rapid speed is also possible with these binoculars.
The body material is durable as well as has an anti-slip grip for the rubber coating. You can go camping, hiking, fishing, or sports with this binocular for its higher reliability. Overall, the Creative XP Night Vision Binocular for target shooting is a great tool to have if you are looking to improve your accuracy. So, do you prefer it?
Frequently Asked Questions
Can you place a binocular on top of a rifle?
There are many rumors and myths about binoculars and rifles. Some people think that you can place a binocular on top of a rifle to increase the rifle's accuracy. This is not true. Placing a binocular on top of a rifle will not improve the rifle's accuracy. It may decrease the rifle's accuracy. This is because the binoculars will create extra weight on top of the barrel, which will cause the barrel to sway more when you fire the gun.
How do I use a binocular for target shooting?
When using a binocular for target shooting, you will want to adjust the focus and brightness. This can be done by turning the knobs on the binoculars. You will also want to make sure that the binoculars are stable so that you can get a clear image. One way to do this is to use a tripod or a beanbag.
What are the benefits of using a binocular for target shooting?
There are many benefits to using a binocular for target shooting. Firstly, a binocular allows you to see your target more clearly and makes it easier to aim. Secondly, binoculars can help you to judge distances more accurately. This is particularly important when shooting at long-range targets. Thirdly, binoculars can improve your accuracy by providing greater stability when aiming. Lastly, a binocular can be used as a spotting scope to help you assess the results of your shots.
Is low magnification good or bad for target shooting?
Low magnification can be good for sighting in a rifle and for making sure the firearm is on target, but it is not good for all types of shooting. When shooting at a target that is far away, low magnification will make the target appear smaller and more difficult to hit. For long-range shooting, high magnification is better because it will allow the shooter to see more detail in the target and increase the accuracy of their shot. Again, low magnification can also be a disadvantage when trying to shoot fast-moving targets, as it can be harder to follow the movement of the target with the scope.
Final Words
We've reviewed the 8 best binoculars for target shooting, and we've included a buying guide to help you choose the right pair for your needs. This review is arranged with all types of options whether you're looking for a budget-friendly option or something more high-end, you will find the right one according to your need. So, which one is your favorite?