Wildlife viewing is so relaxing. You can interact with nature and animals as well. Not only for relaxation, but wildlife viewing can be a professional part too for wildlife photographers and researchers. They need to track their targeted animals for taking the perfect shot on time as well as extract the information. But our naked eyes can't notice all of these things.
Some of the animals are attacking, and some of them hide if people try to get closer to them. To make these interactions smoother, a pair of binoculars is the most needed tool. You can easily track them as well as take photographs of the targeted animals. But Which are the best binoculars for wildlife viewing? What should be their specifications?
If you are searching for the best pair of binoculars for enjoying your holidays or for professional purposes, this article is for you. Keep reading this article, you will get a complete and overall idea about the binoculars for wildlife views.
What are the Best Binoculars for Wildlife Viewing?
Here are the Top 10 Best Binoculars for Wildlife Viewing I recommend:
| | | | |
| --- | --- | --- | --- |
| | | | Check Latest Price on Amazon |
| | | | |
| | | | |
| | | | |
| | | | |
| | | | |
| | | | |
| | | | |
| | | | |
| | | | |
| | | | |
10 Best Binoculars for Wildlife Viewing (Review)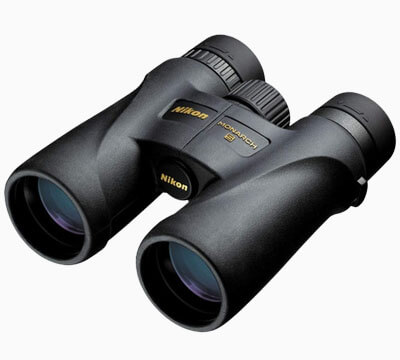 Our very first pick is from the most renowned and trustworthy brand Nikon. Nikon Monarch 5 8×42 Binocular can be a good companion if you are planning to go for wildlife viewing. You will get the best quality ensuring all necessary features to enjoy wildlife. The Nikon Monarch 5 8×42 Binocular comes with 8x magnification power with a 42 mm aperture value. It can gather enough light to produce bright and clear photos along with magnification.
Again, it is designed with ED glass. The ED glass means Extra-low dispersion which works behind the creation of sharp and clear images. The ED glass removes the chromatic aberration which is a most common problem during viewing wildlife. Because there are so many trees, grass, objects, and animals. So the lens has refracted the colors and resulted in a mismatch of color at a point where it should not belong.
The ED glass makes sure the elimination of these color fringing problems and shows razor-sharp images by pointing the right color at the right place. The multi-coated eco-glass lenses offer maximum light transmission to render high-resolution images. Again the eye relief distance is 19.5 mm so you can view for a long time without any discomfort. The exit pupil range is good enough for wildlife viewing.
The 330 feet large field of view at 1000 yards helps to see a large area at a time. Also, the angular field of view of 6.3 degrees makes it more enjoyable and wide-angle to the targeted objects. If you are a glass wearer of it, you can adjust the turn and slide eyecups easily. The eyecups are rubber-made, so they won't make any itching during the wildlife viewing moment.
You can adjust the central focus knob. At the same time, it can focus on the targeted animal so fast and easily. Apart from these, this binocular pair is made of quality rubber. There is extra rubber armor on the body for safety purposes. You don't worry about durability and longevity. This binocular is water-resistant and fog-proof for Nitrogen filled and O-Ring sealing. It is also light weighted and the weight is only 1.30 pounds. You can enjoy the wildlife in any season, any time.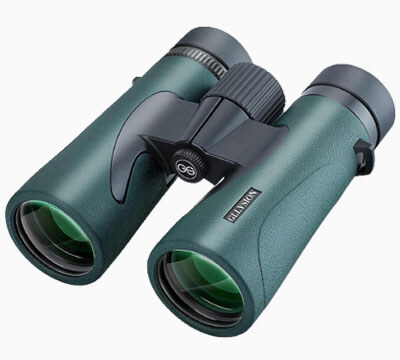 If you are a professional wildlife viewer for covering news or reports, the gllysion 12×50 binoculars can be the best option for you. Besides wildlife viewing, you can use it for birding, sightseeing, fishing, and other activities professionally. As some of the animals are violent and some of them fear the presence of humans, you need to observe by keeping yourself far away from them. So, your binoculars must have good enough magnification power.
The gllysion 12×50 binoculars come with 12 times higher magnification system. You can easily watch mid to long-distance animals. The 50 mm large objective lens ensures the light-gathering capacity to make bright and clear images of the animals.
This pair of binoculars is considered one of the best HD binoculars. That you will get even under $150. But the features and performance are like a high-end bino pair. The HD binoculars can eliminate color fringing and deliver color-corrected images to you. The fully multi-coated lens ensures the color combination with clarity and sharpness.
Again, the 18 mm Bak4 dielectric-coated prism rectifies as well as magnifies the image transmitting the lights via the binoculars to our eyes. We can see crystal clear images of the targeted objects. This binocular comes with a 5.8 field of view along with a 22 mm large eyepiece. You will immerse yourself with nature for the large area views at a time. It will seem you just enjoy the wildlife sitting in your drawing room.
The eye relief and exit pupil distance provide a comfortable viewing experience of the next level. Impressively, you will get the universal smartphone adapter with these binoculars. So that, you can use your smartphone with binoculars and get a full-screen view. You can take photographs of animals, birds, and other objects to share with your family and friends.
Above all, the construction material is high-quality rubber. It can withstand any type of abuse or rough handling. It has a well-balanced polymer frame. The frame is also lightly weighted. However, you can go for rough trails without tension. This pair is water-resistant which adds a bonus and makes it smooth for your adventure.
When you are looking for high magnified binoculars within the budget you can give a try the adasion 12×42 binoculars. You may ask what the specialty is. Well, you will be impressed after revealing its features of it, and for all of them, you will get under $100. The adasion 12×42 binoculars come with 12x magnification power which is very crucial for wildlife viewing. You need to maintain a safe distance from the animals, so higher magnification is required.
The aperture is 42 mm which is good for gathering lights and making a balance to create quality images. The large 1.28 times 16 mm eyepiece renders clear images with all small details. It can collect more than 32% of lights than the other specifications. The bigger BaK-4 prism attachment makes the binocular convenient and lightweight. The weight is only 560 grams. You can carry it anywhere, anytime.
The 18 mm fully multi-coated BaK-4 prisms deliver bright and sharp images of the targeted animals and birds. The HD glass helps to see the animals and birds in low light conditions. This property eliminates the color fringing and gathers the lights on a point. The viewer can see the correct color in the correct places.
The field of view is 367 feet per 1000 yards. You will get a large area of coverage at a time. The adjustable eyecups are perfectly suitable for glass wearers and non-wearers. The viewer can easily turn and slide the eyecups and make the adjustment with their eyes. You can adjust it with any smartphone. It comes with a universal phone adapter. You can easily watch the view on your phone. At the same time, you can take photographs of them for further memories.
Moreover, the construction material is Acrylonitrile Butadiene Styrene. This pair of binoculars is durable, light, and rigid. It is waterproof and can resist moisture as well. So for the image quality and performance, you can carry it for not only wildlife viewing but also for hiking, birding, fishing, sports, and other activities as well.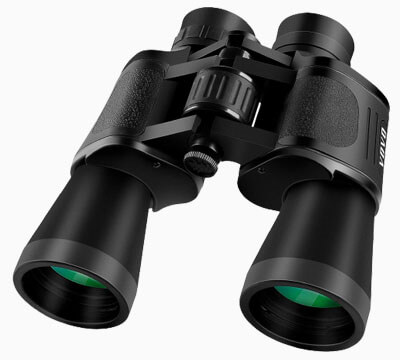 If you love wildlife viewing in your free time, the budget should be the barrier! For this purpose, we are introducing the VOVO 10×50 binoculars for you. This is one of the most affordable binoculars which will provide a top-notch performance and image quality at a time. The magnification ability is 10 times with 50 mm of aperture. When you want to see animals or birds, 10x magnification is good enough to deliver a detailed and close view of the targeted objects.
The eye relief distance is 10 mm and the exit pupil is about 5mm. Also, the adjustable eyecups provide you with comfortable and soothing viewing experiences. The 22 mm of the eyepiece and the large 125M field of view at 1000M render a wider and clear view at a time.
You will get premium-quality images for the BaK-4 prism attachments. The ample brightness and color of images remained balanced for the 99.8 light transmission capacity. The aspheric multi-coated optics ensure the maximum amount of light transmission in these binoculars.
Moreover, the body material is rubber. The eco-moisture-proof rubber armoire makes it more durable and capable to withstand abuse as well as water and fog. The grip is anti-slip. You can grab the binoculars even in wet conditions as well. Moving to the focusing ability of the VOVO 10×50 binoculars. It features a fast and easy focusing system which is controlled by the smooth and wide focus knob. The diopter can adjust with both eyes to make a balance and deliver perfect images in front of you.
In addition, you will get a full set of accessories along with this binocular. The neck strap, lens wipe cloth, carrying case, and lens cap all are included with it. You can contact their online support, they promise to reply within 24 hours. Can you imagine, that all of these you will get under $50?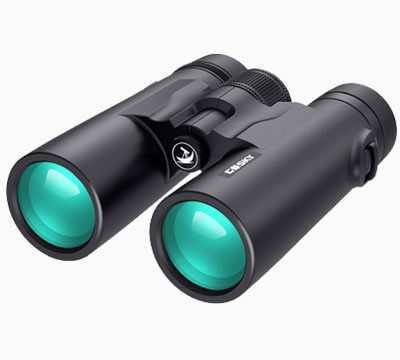 Our next pick is the gosky 10×42 which is a compact device for wildlife viewing. Our previous 2 binoculars pairs are not suitable for kids. We have chosen this one as it is perfect for both kids and adults. First, we have focused on the magnification system. This binocular can magnify 10 times the targeted objects. As a result, you can use this binocular for sports, fishing, bird watching, vocal concerts, or hiking purposes.
The 42 mm aperture makes sure that it gathers enough light and provides enough comfort during viewing the animals and birds as well. The exit pupil distance is 4.2 mm and the 12mm of eye relief ensures long time viewing capability without any headache or eye pain.
You will get impressive optical quality for the fully multi-coated objective lens. The 307 feet large field of view delivers the depth and full view of the objects. A large smart phrase BAK4 prism and 18mm blue film eyepiece render crisp images with brightness. This pair is designed with a roof prism. For this reason, the binoculars become compact.
You can carry it in rough tails as well. The construction material is rubber. The body is covered with shockproof rubber armor. Kids are not much aware of using any devices. The rubber armor gives an extra layer of protection. This binocular is sealed and waterproof. Keep your eyes protected from the UV rays for the green objective lean and blue field eyepiece. You also get the neck strap and carrying bag with the packaging.
The Twilight factor is about 20.49. That defines the effectiveness to produce clear images in low light conditions. These binoculars can deliver high-resolution and quality images in weak light places as well. With all of these, you can attach your smartphone with binoculars. It is compatible with Samsung S10, S10+, S10E, S8, S7, S6, S5, S4, M30,S21,S21+, S20, S20+,S20FE, Note20, Note20 Ultra, Note, 13Pro Max, 13 Pro, 13, 12Pro Max, 12 Pro, 12, 12mini, 11Pro Max, 11 Pro,11, SE, Xs,Xr, X, 8+, 8, 7+,7, 6+, 6,5s,5, 4s, A31,A51,A71,A70, LG, HTV, Sony, and much more.
For customer support and technical support, this brand offers a lifetime warranty as well as a full money-back guarantee. You can go for it without any confusion about their quality maintenance and performance.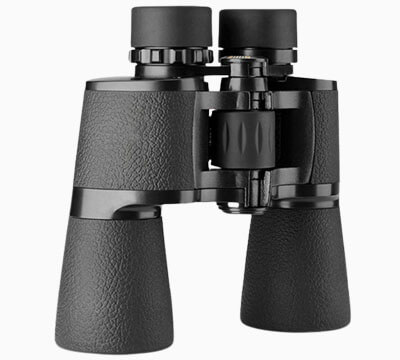 Can you imagine a small binocular can magnify any targeted animal or object 20 times closer to you? If so, you may think it's so expensive!! How is it if you find a 20x magnification-powered binocular for under $100? We are presenting the baigish 20×50 binoculars which will amaze you. With 20x magnifications, the aperture is 50mm. You will get a bigger objective lens with a 2.5mm exit pupil distance.
The eye relief distance is 17.5 microns. So that you will experience a good viewing without discomfort. The 367 feet of the field of view per 1000 yards provide a wider view at a time. You will get bright and crystal clear images from the fully multi-coated BAK4 lens. These lenses maximize the light transmission rate too. Wildlife viewing, you can use it for wildlife photography, hiking, birding, and so on. Now you may think, that if the brand applies higher magnification, they may compromise with the manufacturing material.
If you think so, your idea is wrong. This pair of binoculars is made of durable and high-quality rubber. There is shockproof rubber armor covering the whole body. It can withstand any shake or abuse. Make the grip comfortable to hold as well as non-slip. The o-seal ensures you can carry it during rain or foggy weather. This binocular can prevent any damage to the water or fog.
As it's an HD binocular, you can see bright and detailed images in low light conditions as well. The focusing system is easy and fast. The center focus knob can be adjusted as per your comfort and preference. The optical coating helps to eliminate the distortion. It's good for color fidelity. In addition, you will get a 1-year warranty as well as 24/7 customer service if you face any trouble using the baigish 20×50 binoculars.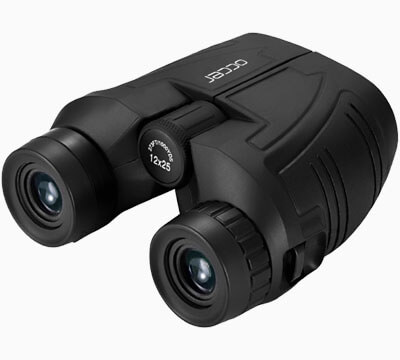 If you are looking for a compact and high-quality binocular, then occer 12×25 binoculars can be a good option for you. The features and functionalities will blow your mind. As the name defines this binocular comes with 12x magnification power and 25mm of aperture. With the magnification and aperture, it comes with a 273 feet field of view per 1000 yards. You will get a detailed and clear view of your favorite animal, birds, or other objects.
The fully multi-coated lens and premium BAK4 prism make it more compact as well as razor-sharp images. It's a great problem to adjust the binoculars if you wear glasses. In this binocular, there are adjustable eyecups. So whether you are a glass wearer or not, you can easily make it adjustable with your eyes.
It features an easy and quick focusing system. The center focus when can be also adjustable. Moving to the design and construction materials, the green film and blue FMC coating make it more unique and help to render user-friendly images.
The body is made by combining Plastic, Acrylonitrile Butadiene Styrene, and Rubber. So no question about the durability and the stability. This pair is palm size and weighs only 0.65 pounds. As it is waterproof and can resist fog and moisture, you can carry it anywhere. The anti-slip grip helps you to hold it properly.
It is known as one of the most compact and budget-friendly binoculars for wildlife viewing. We have picked it in our best binoculars for the wildlife viewing review section. We guarantee, the performance of it won't disappoint you!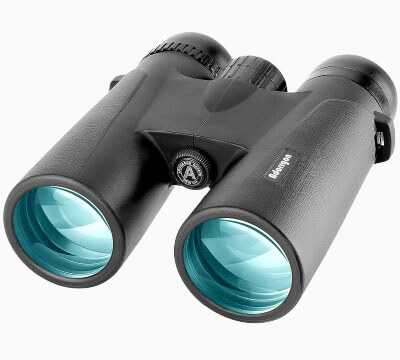 This time we have picked an HD and budget-friendly binocular for wildlife viewing. It comes with a 12x magnification power along with a 42 mm aperture. When you go for wildlife viewing in the early morning or during sunset when the animal and birds come to the nest, you can use these binoculars. The 367 feet' field of view provides a large area of coverage. The fully multi-coated prism lens makes the image quality up to the mark.
The HD property eliminates chromatic aberration and color fringing. As a result, you will get a clear and detailed image in low light conditions. It features a 14 mm eyepiece. If you wear glass, you can also adjust it easily. The anti-slip grip helps to hold the binoculars properly while moving and watching the animals.
You can see a large-scale view by using your smartphone on it. There is a universal smartphone adapter. iPhone, Motorola, HTC, Samsung, Sony, Google, LG, etc all are suitable for it. So you can mount your smartphone with it and take photos to share with your family and friends.
You don't need to hold it in your hands. It can be placed on the tripod and get shake-free images. The tripod was 360 degrees rotatable and much more stable. The feet are non-slip and rubber-made. You can easily enjoy wildlife by placing it on the tripod. The Adorrgon binocular is water-resistant and fog-proof. So you can carry and use it in any weather.
Aurosports 10×25 Compact Binoculars can be an excellent alternative for you if you're seeking inexpensive binoculars that are suitable for both adults and children. It is designed with 10 times magnified ability. The 25 mm round objective lens renders a clear view every time. The exit pupil and eye relief distance provide you a comfortable observation of the animals, birds as well as plants also. You can see the small insects by their sufficient magnification power and 3m of close focus ability.
The construction materials are ABS plastic and premium rubber armor. It is durable and has a longer shelf life. The rubber armor is non-slip as well as protects from shock and rough handling. The larger 362 feet field of view provides a clear and wider viewing experience.
This pair of binoculars comes with a Porro prism attachment. The zigzag pattern of the Porro prism helps to gather lights at a point and deliver high-resolution images of the targeted animals and birds. What about the focusing system? Well, it features a smooth and easy focus wheel. You can focus by your right eye as well as be able to use center focus. You can rotate the wheel so fast and make it focus on the targeted animals.
Additionally, you will get a full set of accessories with this binocular such as the lens cover, cleaning cloth, neck strap, carrying case, etc. You can keep your binoculars clean, safe, and protected during wildlife viewing, hiking, or other outdoor activities.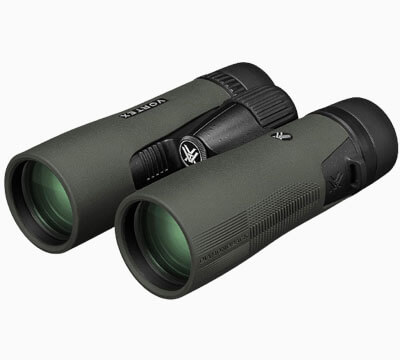 If you want a premium quality binocular, then the Vortex Optics 10×42 Diamondback HD Binoculars will be the best option for you. The price range is a little bit costly but it is worth the money. The specialty of the diamondback series is the high-quality and razor-sharp images with a good field of vision, clarity, and solid construction. This binocular is designed with 10 times the magnification power of the focused object. You can use it so effectively for wildlife viewing.
The HD property removes the chromatic aberration to enhance the brightness, color combination, and light transmission of the images. The lens is fully multi-coated. They can prevent the reflection of the anti-reflective coating. As a result, you will get color-accurate and detailed photos every time.
The Armortek coating on the glasses keep the binocular lens free from dirt, oil, and scratches. It features 15 mm of eye relief and 4.2 exit pupil distance. Features adjustable eyecups. You can enjoy the wildlife activities full of comforts. The center focus wheel can adjust rapidly based on the movement of the animals.
It also can focus on 5m close objects along with the mid to long-distance objects. So for viewing small elements, birds, and insects, you can use this pair of binoculars. The construction material is strong aluminum. It is also covered by shockproof rubber armor. With durability, it protects the binoculars from shock and collision. Make it non-slip to hold properly.
The o ring seal makes the bino pair waterproof and fog proof. You can use it in any season without a chance of damage. This binocular is adaptable to the tripod. So for a long-time wildlife shoot or just enjoying purpose, you can place it on the tripod as well. Another option is to hold it with the glass pack harness. It will be more secure and safe instead of holding on to your hands when you move. Wildlife viewing, you can use it for hiking, fishing, sports, or watching concerts as well.
Wrapping it up
A pair of binoculars should be your companion for wildlife viewing. Telescopes can be an option but binoculars are compact, portable, lightweight, and budget-friendly as well. They are easy to operate and carry. Here we have tried to provide an overall idea about the wildlife viewing binoculars. The 10 picks are quality and come with all the necessary features. We have chosen different price ranges and specifications for both adults and kids.
We have discussed the buying guides and some basic questions that may have confused you before. Hopefully, our review of the 10 best binoculars for wildlife viewing and the buying guides will help to choose the perfect one for you. So why are you waiting? Grab the perfect binocular pair for you and enjoy wildlife activities.