In a world where we are always looking for the best of the best, it is hard to know what is worth your money. As you are here, I am sure you have been looking for the best image-stabilized binoculars that offer proper stabilization and quality optics. You are maybe wondering if they are worth it. Well, I will tell you now that they are more than worth their weight in gold. I'm always looking for the best in quality and performance when it comes to binoculars. I had a chance to test out some great new models from some of my favorite companies. And I found that both these brands have their unique features, but they are also very different in terms of design and weight. So, I can't resist sharing my experience with you and want to recommend which binoculars you should buy in this case.
What are the Best Image Stabilized Binoculars?
Here are the Top 10 Best Image Stabilized Binoculars I recommend:
10 Best Image Stabilized Binoculars (Review)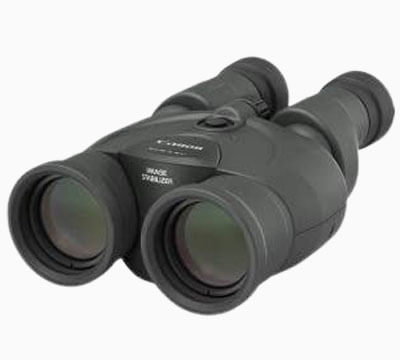 Few companies can compare to Canon when it comes to quality optics and stabilization. Their products have always been some of the most well-built and reliable out there. They are often found in hunting as well as shooting applications, so you know they have put a lot of thought into their design.
The best thing about Canon binoculars is that they offer an incredible variety in price range, making them perfect for anyone looking for an affordable option or those with higher budget constraints. If you're looking for the best image-stabilized binoculars, then I have a few recommendations from this brand.
My first recommendation is the canon 12×36 image stabilization binoculars. These are great because they offer excellent optics and are designed to be waterproof. They also come with a tripod adapter so that you can easily set up your viewing experience anywhere.
You can use it to watch sports, bird watching, or simply look at scenic landscapes and observe moving objects. The camera lens also provides excellent stabilization so that you can see without any artifacts. They're perfect if you need something big enough to take in all of the scenery around you while still delivering top-notch image quality.
Let's now talk about its magnification. These binoculars offer a magnification of 12x, which is perfect for viewing large objects. Plus, their tripod adapter allows you to enjoy moments without having to worry about stability or quality. Overall, it is an amazing option if you're looking for the best image-stabilized binoculars on the market today.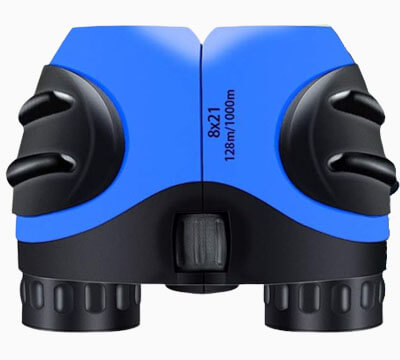 If you're looking for a slightly less expensive option, the Luwint 8×21 image-stabilized binoculars are an excellent choice. They come with a magnification of 8x and offer great image quality. These binoculars are also waterproof so that you can enjoy your viewing experience in all kinds of weather conditions.
Luckily, they have been designed to be very user-friendly and easy to set up, perfect if you're just trying out this type of gear for the first time. I can remember the first time I used these binoculars and was completely in awe of the clarity and magnification that they provided.
These are amazing tools for capturing moments both big and small, which come with an affordable option that still offers great quality. Do you know why this binocular is best in image stabilization?
Well, it's because the optics have been specifically designed to provide superior stabilization so you can enjoy crystal-clear images. This means the chances of blurry photos have been virtually eliminated. Things that make it unique are nothing else than its wide field of view, providing you with a perfect overview even when looking at distant objects.
As well, the tripod adapter makes it easy to use even if you're not always in a stable environment. Whatever your reason for needing binoculars – whether it be for birdwatching or simply capturing amazing landscapes, these are definitely among the best on the market today.
Let's now talk about its price. This is an excellent option if you're looking for a quality binocular that won't break the bank. I know you won't believe it if I say this is the best binocular for image stabilization for under 30$. Yes, you heard it right. No need to believe my words. Check it for yourself.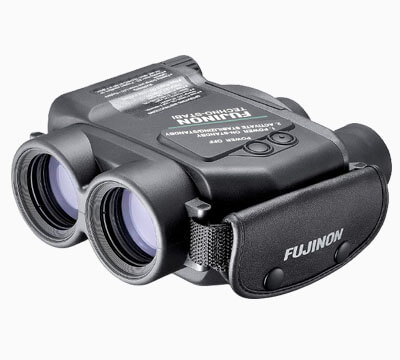 I was out at a sporting event last night and noticed that the binoculars I had with me were not up to snuff. The image was blurry, and it made it hard for me to see what was happening on the field. I decided right then and there that I needed some new ones, so this morning I went online and started looking around.
I found these great binoculars from one of my favorite companies. Also, I was impressed with how well these pairs were able to handle any kind of motion that might happen while viewing an object or animal.
They are also so lightweight, which makes them easy to carry around all day long without feeling fatigued or sore in the eyes. First of all, the Fujinon brand is a well-known producer of high-quality optics, so you can be sure that these are going to give you the best possible view.
Next, I want to talk about the price. These are not the cheapest binoculars on this list of best image-stabilized binoculars, but they're worth it. I would say that these are some of the best binoculars you'll ever find at an affordable price. Its fiberglass construction and heavy-duty features make this ideal for anyone who is looking to do some serious viewing.
You can use this binocular to follow a moving object at 5 degrees of stabilization, which will provide you with a clear and accurate image that you'll be able to rely on. So if you're looking for the best binoculars in terms of image quality and stability, look no further than these Fujinon Techno Stabi TS1440-14×40 image stabilization binoculars. Whether you're a hunter, fisherman, or just someone who likes to take pictures of nature, I highly recommend investing in a pair of these amazing Fujinon optics.
There are many different types of binoculars on the market today, but not all offer image stabilization technology. Image stabilization is important if you're using your optics in low light or at dusk because it helps eliminate hand-shake, which can cause blurry images. From my experience, I can say that Fujinon Techno-stabi TS 12×28 image stabilization binoculars will spot on in any condition.
The Fujinon binoculars are perfect for those situations. The reasons are many. They come with a 12x magnification which makes them powerful enough to see even the smallest details in faraway objects. Plus, they offer full-time image stabilization that will help keep your images clear and crisp no matter what the conditions are.
Already it has a good quantity of positive reviews on Amazon, so it's safe to say that this is a binocular worth looking into. Not only is the image quality great, but you can also expect decent build quality and durability from these optics.
Their lightweight design also makes them very easy to carry around all day long without feeling weighed down or fatigued in your eyes. The eyecups are adjustable, which means that you can get a perfect fit for your face. I love when it gives me a detailed view while hunting or watching anything.
What to say about its design? Luckily, it has a sleek and professional design, with a matte black finish. The adjustments are nice and tight, which makes it easy to get the perfect view during all sorts of activities. Compared to some of the other binoculars on this list, the Fujinon Techno-stabi TS 12×28 image stabilization binoculars are a great option to choose from.
We are now going to review our fifth best image stabilized binocular, which is from none other than Kenko production. Though this brand might not be as well-known as some of the others on this list, its products are definitely worth your attention. No matter what you're doing, it's important to be able to see. Whether you're trying to find something in the distance or just want a close-up view of your surroundings, these Kenko-branded binoculars will get you covered.
First and foremost, among the features of Kenko Vcsmart 10×30 image stabilization binoculars is their 10x magnification which makes them perfect for viewing objects up close. Plus, they feature Kenko's popular V-C Smart image stabilization system. This will help to keep your images clear, even in low light or with shaky hands.
As with most binoculars on this list, these optics also come with a full-time mode that keeps everything stabilized throughout use. What I like about these binoculars is their overall performance. Trust me when I say that you will be impressed with the clarity and detail of whatever you're looking at.
It is one of the best options for those who are looking for excellent image stabilization binoculars. They weigh less than 520 grams which is a plus point if you want to carry them around with you without feeling too heavy. Its multi-coated optics provide superior light transmission and color rendering.
Now that you know more about what makes these binoculars great make sure to check them out for yourself. However, there are a couple of things to keep in mind before buying these binoculars. First of all, they do require some adjustment time to get used to them – but once you have them set up properly, they should work great every time. And finally, they are a bit more expensive than some of the other options in terms of quality and performance.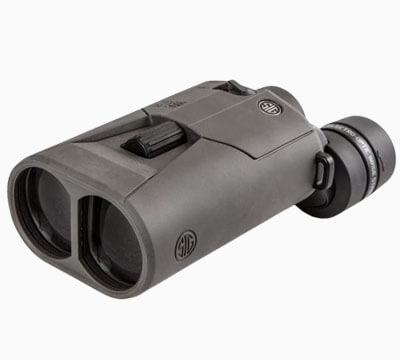 When you're out in the wilderness and need to see something, these are the binoculars for you. Sig Sauer ZULU6 16×42 binoculars have a wide field of view and high magnification power and can be used in low light. Can you guess why did I keep this binocular on our list?
Apart from its amazing features, one of the best things about this binocular is that you can use them to view any far object and zoom in. They are also a great option if you're looking for something durable and long-lasting. Just imagine you are watching your favorite bird while it's flying even far from you. And because of its stabilized feature, the view will be clear.
Overall, these binoculars are perfect for anyone who wants to get the most out of their experience when using them outdoors. Its HD quality means you'll be able to see clearly whatever you're looking at. Things that you don't know about these binoculars are that they do require some Assembly and that it can be a bit challenging to take them on an airplane with you.
But all things considered, these are great binoculars that will give you years of enjoyment. As it's waterproof, you can also use it in any weather conditions. And if that's not enough for you, the binoculars come with some accessories. The binoculars are also available in different sizes and colors, so you can find one that fits your style perfectly.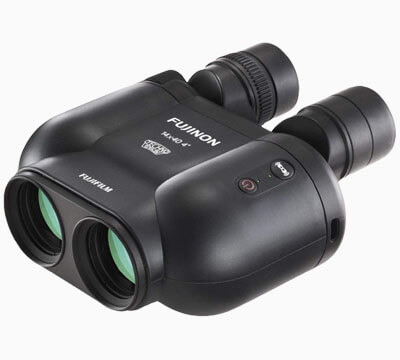 I have been hunting for a good pair of binoculars that is not too expensive and can be used in different circumstances. I finally found the perfect one. Yes, the binoculars I am going to review now are not just any ordinary pair of binoculars. These are the best image-stabilized binoculars that you can buy. I was imaged to see its powerful features for myself. Though we already have listed their products before in this article. But I couldn't avoid this one.
The Fujinon 14×40 TSX1440 image-stabilized binoculars come with a 40mm objective lens and feature a gyro sensor that produces high-resolution images and videos. Additionally, it comes with an incorporated infrared illuminator to help you see in low light conditions or at night time. A gyro sensor detects the tiniest movements and regulates refraction within the shell to obtain a vibration adjustment angle of 6°.
The body is made from aircraft-grade polymer alloy which makes it both strong and durable. Plus, its rubber armor guards the lenses against scratches or damage. This is a great product that has been designed with an excellent optical system and can be used in any environment. The lens is made of high-quality glass, which provides you with ultimate clarity, while the body is rubberized, so it's perfect for outdoor use.
The most important thing about this product, though, is that it has been equipped with a unique stabilizer that prevents image degradation in low light conditions. From every aspect of my use of the product, I can say that it is a great investment. If you're looking for an excellent pair of binoculars that will provide you with top-notch clarity and performance, then the Fujinon 14×40 TSX1440 image-stabilized is perfect for you.
Here is another review from the Canon company. You know what? I love Canon products. So, I'm not just saying this because they are endorsing my product. I am a binoculars specialist, and I know that Canon is the best brand. They have made many great products over the years, but their 10×42 L Image Stabilization Waterproof Binoculars are my favorite.
The Canon 10×42 L image-stabilized binoculars are amazing in every way. The lenses have a fog-proof and water-repellent design. In addition to that, the glass is made from high-quality materials, so you will be able to see even at very long distances.
Furthermore, the image stabilizer ensures that your images remain stable even when taking videos or photos in low light conditions. It's Ultra-low dispersion glass that makes the image quality even better.
The maximum level of this binocular eye relief provides you with a comfortable viewing experience, while the shockproof design ensures that your binoculars will survive even the harshest environments. And the Porro prism design allows you to see both the close and far objects.
The only downside is that they are a bit on the expensive side. However, I've never seen a pair of binoculars that are as good as these. They're like having two eyes in one. I think they're the best ones on the market, and I'm not just saying that because I love Canon. But if you're looking for an excellent pair of binoculars that will provide you with superior performance, then I would highly recommend this.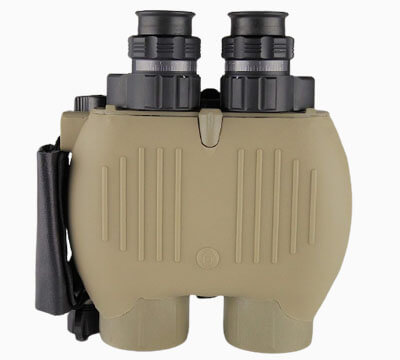 The Fraser S250 stabilized binoculars from Fraser Optics are a top choice for those who want to get the most out of their next birdwatching trip or other outdoor excursions. The patented design allows the user to enjoy their view without having to worry about shaky images or blurred vision. The lens is made of high-quality glass that delivers sharp images with vivid colors and contrast.
The optical coated lenses provide clear image viewing even in low light conditions while also protecting your eyes from harmful glare. It's made with durable materials, including rubber armor for shock absorption, and has a comfortable grip. The eyepieces are large and offer a wide field of view for easier viewing on long hikes or birdwatching trips. 
The magnification is adjustable from 8x to 14x, and the binoculars have a 3.3mm field of view. When I tried it once, I could see that it was very well-made and would last for a long time. They offer a wide field of view and smooth image viewing and are made with top-of-the-line materials.
The feature that makes it unique is its patent-pending stabilization system, as I told you before. However, they do tend to be on the expensive side. So if budget is a concern for you, then I would recommend checking out some of the other options on this list first before settling on these particular binoculars.
Can you imagine that I am reviewing some top binoculars for image stabilization, and multiple Canon products are not on that list? Our final and last best image stabilized binoculars are from Canon, the evergreen brand. Well, it is because there are some amazing Canon Image stabilized binoculars out there that deserve to be mentioned and rated on this list.
First of all, these are 18x50mm stabilized binoculars with a large 50 mm objective lens providing excellent resolution for close-up viewing. There is also an easy power selection switch located on the left eyepiece, so you can quickly toggle from 10x to 18x magnification when needed.
All of these features come together to make the Canon 18 x 50 image stabilization all-weather binoculars one of the best binoculars on the market today. As a bonus, they also come with a carrying case, neck straps, and batteries. All of these provide their users with years of quality service.
You will notice that these binoculars are designed for viewing details or fine textures. I liked the Canon 18×50 image stabilization binoculars because they provide excellent all-around performance. They are top of the line and extremely durable, making them perfect for those who have a lot of outdoor activities planned. However, make sure to compare them with other binoculars on this list before making your final decision.
Final Thoughts
We know that finding the right binoculars can be a daunting task, but we've made it easy for you with our list of the 10 best image-stabilized binoculars. You're probably wondering what to do next. I would suggest checking out a few reviews on these products and also looking into some other types of binoculars that might suit your needs better.
Our Top 10 list includes some of the most popular and reliable options on the market today. Don't wait any longer and check them out. Just don't forget to let us know your pick.