Last year, I had a terrible experience while hunting in the middle of the forest. I didn't bring my night vision or low-light binoculars. My regular high-quality binocular pair didn't even work perfectly for the low light condition. Whether you are a nature enthusiast or just like to watch birds, a good pair of low-light binoculars will let you do so smoothly when the light is fading. But what are the best low-light binoculars? It's not easy to choose the best low-light binoculars among thousands of brands because there are lots of things you need to judge before buying. And that's why we will discuss the features and performance of the 10 best low-light binoculars in this article.
What are the Best Low Light Binoculars?
Here are the Top 10 Best Low Light Binoculars I recommend:
| | | | |
| --- | --- | --- | --- |
| | | | Check Latest Price on Amazon |
| | | | |
| | | | |
| | | | |
| | | | |
| | | | |
| | | | |
| | | | |
| | | | |
| | | | |
| | | | |
10 Best Low Light Binoculars (Review)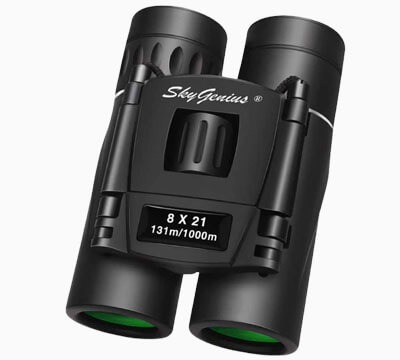 Our very first pick is none other than the SkyGenius 8×21 compact binoculars which are designed for use in low light conditions. The binoculars offer 8x magnification for producing detailed and clear images of the targeted objects. 8x is a standard magnification power for any outdoor activities like birding, sports, hiking, night camp, etc.
The 21mm objective lenses provide clear views of distant objects. They also feature an optical glass-made durable construction that can withstand rough use. Moving to the optics quality, you will get fully multi-coated (FMC) broadband green film.
That increases the light transmission in weak light conditions like at sunset or sunrise. Also, the center-focus knob helps to focus smoothly on the targeted bird, animals, or any objects. The right eye lens is also suitable and easy to use for kids. So, both kids and adults can use this one pair of binoculars to enjoy natural views closely.
You can cover a wide area at once for the 369 feet at 1000 yards large field of view and 6-degree angle field of view. The 13mm eyepiece provides long eye relief as well as a wide view field. At the same time, the 16mm eye relief distance ensures a smooth viewing experience. Along with long-distance objects, you can observe close-distance objects too. It features a 2m mini focus length ensuring a wide angle of view.
This binocular is designed with a BK-7 roof prism. That ensures clear and sharp output with compactness. The binoculars are lightweight and compact as the weight is only 6.2 ounces. The foldable and portable design makes it more convenient to use in dark conditions. You don't need to arrange extra space or carry an extra bag for this pair of binoculars.
The small and pocket-size binocular shape makes them easy to carry with you. The company offers reliable after-service for any kind of help and answers your queries. They feature high-quality optics and a compact design that make them ideal for use in dim environments.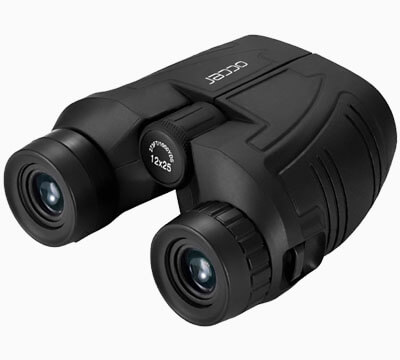 Our next pick is Occer 12×25 binoculars for you and you will fall in love after going through its features. Whether you're birdwatching, hiking, or simply taking in the scenery, the Occer 12×25 binocular is sure to make your experience even better in low-light conditions. It is designed with 12x magnification power and a 25mm objective lens.
The 12x magnification provides a clear, crisp image, and the low light view feature allows you to see in the darkest of environments. The bigger objective lens makes the output images bright and sharper.
This binocular features a 273 feet field of view at 1000 yards. Also, these high-powered, 15mm large eyepiece-designed binoculars offer a razor-sharp and bright image. Whether watching a game or taking in the sights while hiking at night time, this pair of binoculars make it easy to get a closer look.
It works great in low light for featuring FMC broadband coating glasses. As a result, it can provide superior light transmission and brightness. The premium BAK4 prism provides the image verisimilar. Besides, the lenses are coated with a special material that makes them resistant to scratches and UV rays.
With adjustable eyecups, it can be fit for eyeglass wearers or those who do not wear them. The 20mm long eye relief distance reduces the struggle of watching in dim light rather than giving you a smooth viewing experience.
The central focus wheel makes the focusing system more convenient and user-friendly. This binocular is made of ABS plastic with a rubber-armored body. That ensures durability as well as makes the binocular pair easy to grip.
This pair is also waterproof and fog proof, making them the perfect choice for any outdoor activity. If you have a tight budget, and looking for budget binoculars for hunting, it can be a great option for you.
You will get this amazing pair of low-light binoculars for under $50. So anyone can afford this binocular pair. These are the main reasons for selecting this binocular pair in our top 10 best low-light binocular list. So don't miss out on this incredible product – order your Occer Binocular today!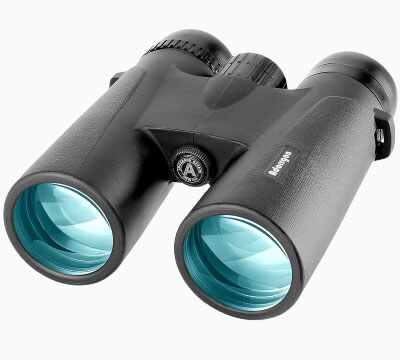 If you are looking for a binocular that is perfect for low-light environments, then you can consider the Adrrgon 12×42 binoculars. It will be a great addition to your outdoor gear. With the power to see up to 12x magnification, you can get a clear view of objects far away. The 42 mm HD objective lens provides a clear and crisp image.
Along with these, the 16.5mm BAK4 prism reduces glare and enhances clarity. You can watch in low light conditions like during twilight. This binocular features an easy-to-use focus wheel. So that, you can quickly get the perfect view without facing any difficulty in focusing on your targeted objectives.
With high resolution, this binocular offers a wide 367ft field of view at 1000 yards. That makes it perfect for hunting or bird watching even in dim lighting producing clear images more than 650 feet away.
With its 18.5mm large eyepieces, it offers a clear and bright image with stunning detail. The 4.2mm standard exit pupil value can provide a comfortable viewing experience without eye fatigue.
Apart from this, it is unbelievable that you will get a universal smartphone adapter as well as a tripod mount system in this binocular pair. Both features are beneficial during low-light hunting, birding, and enjoying long-period sporting events.
You can place your smartphone with these binoculars and take photos as well as record videos of closer views. Sony, Samsung, Apple, LG, Google, Motorell, whatever your phone is, can be used for all of them.
You don't need to hold it in your hands all the time. You can use a 360 degrees rotatable tripod that ensures sharpness and shakes fewer images every time. The body material is ABS plastic and covered by shockproof rubber armor. This binocular is waterproof and shockproof. It will remain non-slip even in wet weather.
With all of these features, it's a great deal under the $50 price range. Overall, this binocular is lightweight and portable along with excellent performance. You can take it with you on your next outdoor adventure.
Whether you are bird watching, camping, or simply enjoying nature in low light conditions, the Tanaview 10×50 compact binoculars are sure to impress! With 10x magnification, you will be able to see everything in stunning detail.
The 50mm objective lenses provide maximum light transmission for bright and clear images even in low light conditions. This binocular is designed with durability in mind and is perfect for anyone looking for a lightweight option. The weight is only 13.4 ounces, which is very convenient to carry with you on hikes or camping trips.
This binocular features a wide 367ft at 1000 yds field of view. So you can spot anything in your surroundings perfectly. The 7.5-degree angle of the field makes the area covered bigger and wider.
The lenses are fully multi-coated and with the BAK4 prism attachment, you will get an outstanding image of the target objects every time. The large 35mm bigger eyepiece makes it easier to use during any of your adventures.
So far, the focusing system is also convenient. This binocular pair is designed with manual focus with the right eye so that you can adjust quickly. Your viewing journey will be more smooth and more comfortable for the 5.00mm exit pupil distance.
If you wear eyeglasses, you don't have to worry about using binoculars. The adjustable rubber eyecups make it suitable for both glass wearers and non-wearers. It features a dioptric adjustment ring as well as a strap mount which makes your observation more enjoyable.
It's a perfect addition for kids to adults to observe the natural view, and wildlife, camping, or enjoy sporting events. Though it's not for complete darkness, it works excellently for low light conditions. As most of the sporting events are held at night time, it can be your sports time companion too.
Again, the construction material is durable plastic. Covered with rubber armor providing a great look and ergonomic design as well. The design is slim and simple but can attract your attention at first glance. The anti-skid feature prevents slipping, making it easy to keep your focus on what's important. And, you can use it in wet weather as the body is waterproof and fog proof.
If you're looking for a pair of binoculars that will give you an edge when hunting or observing wildlife in low light conditions, then the Baigish 20×50 is a perfect choice. These specially designed binoculars offer 20x power magnification, 50mm large objective lens, and 367ft 1000yds large field of view, making them perfect for outdoor enthusiasts and nature lovers.
The higher magnification lets you observe long-distance objects perfectly. The bigger objective lens collects maximum light to deliver the magnified image more brightly and clearly. The wider field of view helps to see large areas at once and ensure nothing will skip from your sights.
This binocular features a fully multi-coated BAK4 Lens, ensuring superior light transmission. The corrective optical coating on the lens decreases the color distortion as well as enhances clarity. You will get color-corrected, HD-quality images even in dim light conditions too.
The focusing system is also easy and fast so you don't need to face any hassle to watch fast-moving objects. Also, the diopter system adjusts the imbalance between your eyes. The longer 17.1micron eye relief distance helps to provide a smoother observing experience as well.
With durable metal construction and a comfortable grip, these binoculars will provide hours of enjoyment. The rubber armor protects against bumps and scratches. It keeps your binoculars pair waterproof and fog proof. Also, the rugged, sleek, and non-slip design keeps your hands free from any unpleasant smells.
And, all of these you will get under the $100 price range. Though it's not the end. You will get a 1-year warranty with 24/7 customer service from the company too. So far, whether you are professional or amateur but need professional output, purchasing the Baigish 20×50 can be your best investment.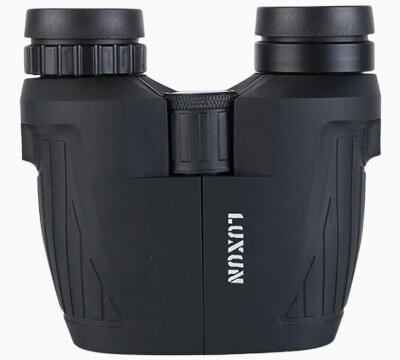 Do you love spending time outdoors, but hate struggling to see in low light conditions? Well, struggle no more with these amazing Luxun 12×25 compact binoculars. These binoculars are perfect for anyone who wants to make the most of their outdoor experience, without having to worry about not being able to see.
Looking at the specifications, it comes with 12x magnification and 25mm objective lenses. This pair of binoculars will allow you to see clearly in even the lowest of light conditions. The BAK4 prism ensures light transmission up to 99.58%. Also, the multi-coated optics with hd properties can cut the chromatic aberration and enhance the image quality.
This binocular also features the ability to control color fringing. That is a crucial feature for watching birds, wildlife, or sports in low-light conditions. This binocular features a 374ft/1000yds large field of view. You can cover maximum areas without changing your position. This is very helpful while observing wildlife peacefully as well as while enjoying sporting events in the stadium.
The 8.2° field angle along with the large 16mm eyepiece also ensures a wide area coverage at a time. In terms of focusing purposes, you can easily focus on distant objects. For this, you need to fold it with both eyes. Then you should close your right eye and adjust the central focus wheel.
The left eye will clean, and do it for the right eye too, following the same process. After that, open your 2 eyes and enjoy a closer and more detailed view of any objects. Luxun 12×25 binocular pair is IPX3 waterproof. That means it can withstand water sprays up to 60 degrees.
The rubber construction ensures a firm and anti-slip grip during wet conditions making it shockproof and fog-proof. It features a smartphone mount system so you can place it with your smartphone. At the same time, you can take photographs and record videos of distant objects to share with your family and friends.
So far, you don't need to use night mood as this binocular can deliver clear output in dim light conditions. You will get a neck strap and manual lens cleaning clothes with this binocular pair. However, this binocular weight is 0.54 lbs which is super compact and lightweight. You can take them with you anywhere. The price range is affordable for all of you.
The quality, performance, HD optics, compactness, and affordability insist us to pick this binocular in the best low light binoculars review section. Don't let low light stop you from enjoying the great outdoors – get yourself a pair of Luxun 12×25 compact binoculars today!
Looking for a highly magnified binocular that can be used in low light conditions? Look no further than the UncleHu 20×50 low-light binoculars. These binoculars feature high-quality optics and construction that make them ideal for use in any lighting condition.
With a 20x magnification, this binocular provides plenty of power for observing distant objects. Also, the bigger 50mm objective lens ensures maximum light-collecting ability to produce clear images in weak light conditions.
The lenses are fully multi-coated and anti-reflective. It can minimize the distortion and reduce glare. So that, you will get clear images in dark places. The Bak-4 prism attachment comes with a round exit pupil. As a result, you will get clear and razor-sharp output every time.
The central focus wheel helps to adjust focus for fast-moving objects. The 287 feet wide field of view at 1000 yards provides a large area of coverage at a time. Again, the large 26mm eyepiece and adjustable eyecups make it fit for eyeglass wearers and non-wearers too. The tripod mount system makes the binoculars more convenient to use.
You don't need to hold it in your hands all that time. You can mount it on a tripod and enjoy the targeted distance object. The body material is plastic and metal. That makes the binocular pair durable and stable. The rubber finish makes the binocular anti-slip and you can grab it comfortably.
This pair is waterproof and fog proof. You don't need to worry about the wet condition. It can be your companion in any weather. The durability and water resistance capacity is crucial in low light conditions as the binoculars can withstand any obstacle and rough handling.
The brand of this UncleHu 20×50 binocular offers 3 years replacement guarantee. So, the quality and performance are top-notch without any doubt. And, the binoculars' large exit pupil and wide field of view make them perfect for use in bird watching, hiking, hunting, camping, sporting events, and stargazing. Whether you're looking to observe wildlife in your backyard or get a closer view of the stars, the UncleHu 20×50 high-power binoculars can be a great choice.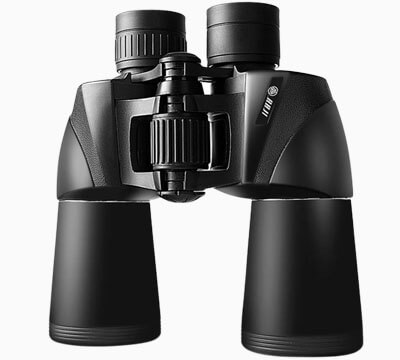 If you are a binocular or professional wildlife researcher, Aaji 10×50 binoculars can be a good option for you. With higher magnification, a bigger objective lens, and HD properties, it will perform excellently in low light conditions. ​​The Aaji 10×50 binoculars can magnify distant objects 10 times closer to you. That makes it easy to see objects from a distance.
With 50mm large objective lenses, you can enjoy a clear, bright view no matter what the conditions are. The best part of this binocular is that you can see even in super-low light conditions. Its high dimension property cuts the chromatic aberration and renders your color-corrected output.
This low-light binocular offers a clear image from more than 650 feet away that is perfect for navigation or maritime patrol. With its low-light vision capabilities, it is also great for anyone looking to do some outdoor sightseeing or exploring.
The field of view is about 341 feet at 1000 yards which is beneficial to observe sports or wildlife peacefully covering large areas without changing the focus and position. The longer 24mm eye relief and 5.00mm exit pupil distance are good enough to ensure a comfortable viewing experience for a long period.
If you have vision problems and wear glasses, you can also use this binocular pair. The rubber-made adjustable eyecups make it possible to use any of you easily. This binocular is equipped with a convenient central focus knob and adjustable right eyepiece to adapt to different viewing distances. And this feature is perfect for bird watching, hunting, or any other outdoor activity. No doubt, this is one of the best low-light binoculars on the market.
However, this binocular features a secure hold and impact resistance, so you can be sure it will withstand even the most extreme conditions. The lenses are also protected by durable rubber when not in use. It is O-ring sealed optics with a fog-proof coating that prevents moisture, dust, and debris from getting inside, ensuring your view is always clear. Along with these, the company provides a 1-year warranty as well as 24 hours customer service. So grab this pair and enjoy your time with nature!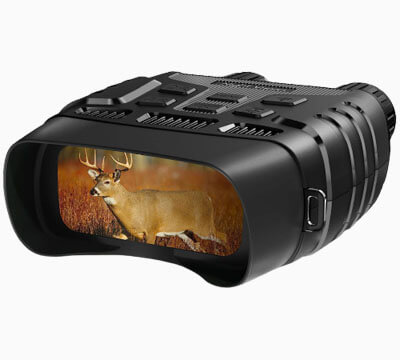 If you are looking for top-quality night vision binoculars that will allow you to see in the dark, then the JStoon night vision binoculars can be a great option. This binocular features a large 3-inch viewing screen that makes it easy to see in the dark. The 3x magnification power provides a clear and bright image of your surroundings that is perfect for night hunting or surveillance.
The main factor in getting a clear view even in complete darkness is the built-in 850NM infrared illuminator with adjustable 7 gears. Not only just view your eyes, but you can also take high-resolution photos and record HD videos using this pair of binoculars. No need to worry about charge, you can operate this binocular using 6xAA Batteries. It can run for up to 6 hours continuously.
You can transfer the images and videos instantly to any electrical device connected by USB. If you don't transfer immediately, you don't need to worry about the memory spaces. This binocular comes with a 32 GB memory card to reserve the image and video.
The wider 984ft viewing range helps you to observe the wildlife without changing your position and without disturbing them. The JStoon Night Vision Binoculars come with a sturdy carrying case to carry anywhere. As it is difficult to carry a suitable bag at night time, this case will be beneficial and effective so far.
Along with this, you will get a neck strap also to hang the binoculars on your neck. It will ensure safety during hiking or rough trails. The usual manual, data cable, and lens cleaning cloth all are included with the package too. Above all, the body material is Acrylonitrile Butadiene Styrene which ensures a longer lifespan and durability. Also, this binocular is water-resistant and fog proof. So you can use it in any weather condition.
The company also offers a 100% refund facility if you want to be satisfied with the performance and features of these amazing binoculars. You may think, this binocular is suitable only for nighttime or low light conditions, but you can observe wildlife, do bring it, and enjoy sports in the daytime too. It's a complete package for any of your adventures. So why are you waiting?
Our last section for the best low light binoculars is Gthunder night vision goggles binoculars which are a perfect addition to seeing in low light. Let's reveal the features together. The magnification power is 4x and the objective lens is 24mm. That can magnify your targeted objectives even in complete darkness.
The bigger 3-inch TFT screen makes it easy to observe the wildlife in complete darkness. For clear and bright images in low light or dark, the in-built CMOS image sensor is responsible. The 7 gear of the infrared illuminator helps to adjust to different levels of light. You can easily increase brightness using the IR UP button and decrease it with the IR Down button.
Again, you can observe a large area at once from the 986 feet' field of view. You can take photographs and record high-resolution videos without sound. For storage purposes, it features a 32 GB memory card. You can also transfer the media files to your PC using a USB cable. You can run this night vision binocular for 6 hours using 6xAA batteries.
The body of the binocular is made of durable ABS plastic. Also, the Owl Night Vision Scanner is engineered with this binocular for extra protection in a harsh environment. The whole body of the binocular is covered by rubber armor that keeps your binocular waterproof and fog proof as well. This pair comes with a neck strap, carrying bag, data cable, lens cleaning cloth, and manual. You don't need to buy these necessary accessories separately.
Frequently Asked Questions
Are low light binoculars good?
In general, low light binoculars are good enough to satisfy you. They are designed to be used in conditions where there is little to no natural light available. This means that they typically have large objective lenses and use high-quality optics in order to gather as much light as possible. Additionally, many low light binoculars also feature image-stabilization technology, which can help to reduce the effects of shake and blur.
What magnification is required for low light binoculars?
It depends on a number of factors, including the size of the binoculars, the type of lens used, and the level of light available. Generally speaking, however, a low light binocular will need a magnification of at least 7x to be effective. So far, binoculars with a low light magnification of around 7x to 10x are typically sufficient for most low light conditions.
What are the key features of the low light binoculars?
The key features of low light binoculars are that they are designed to be used in low light conditions and have a higher light gathering capacity than regular binoculars. They also have a wider field of view and are usually equipped with night vision capabilities.
What are the benefits of using the low light binoculars?
The main benefits of using low light binoculars are that they allow you to see in low light conditions without the need for a flashlight. They are also lightweight and portable, making them easy to take with you on the go. Additionally, low light binoculars have a wide field of view, allowing you to see more of your surroundings at once.
How do I use the low light binoculars?
To use the low light binoculars, first, make sure that there is enough light to see through the lenses. If it is too dark, the binoculars will not work. Next, hold the binoculars up to your eyes and look through the lenses. You should see a magnified image of whatever you are looking at. If the image is not clear, try adjusting the focus knob until it is sharp.
Bottom Line
The above binoculars are great for low light conditions and offer good value for the money. They provide higher magnification, good light transmission, and outstanding image quality in low light conditions. They are also durable and easy to use. If you are looking for a good pair of binoculars to use in low light conditions, then any of the above would be a great choice. We hope you enjoyed our reviews of the 10 best low-light binoculars on the market today. Grab the suitable one and enjoy it even in low light as well.