I can never tell if my shot will be a good one or not. It's an important matter for shooters because it's all about the accuracy of the shot and how far away I am from what I'm aiming at. Every shooter knows why the accuracy of long-range shooting is so important. That's where the spotting scopes come in. They make spotting and assessing the distance from your target much easier than without them. They provide higher magnification so that you can see the details of what you're aiming at and allow for an accurate calculation of how far away it is. In some cases, spotting scope is even precision-made with reticles specifically calibrated for long-range shooting. With all that being said, which spotting scope should you buy for long-range shooting?
In this article, we're going to take a look at the 8 best spotting scopes for long range shooting on the market. From budget-friendly options to high-end models, you will find everything here. In addition to that, we'll provide you with our recommendations of what scope is best for you, depending on your needs and budget. So without further ado, let's get started:
What are the Best Spotting Scopes for Long Range Shooting?
Here are the Top 8 Best Spotting Scopes for Long Range Shooting I recommend:
8 Best Spotting Scopes for Long Range Shooting (Review)
You might be thinking, what is our main focus in this article? Well, we are focused on spotting scope specifically for long-range shooting. On this list, we have eight of the best spotting scopes for long range shooting available today. We've split up our reviews into multi-feature, modern and affordable options so that everyone will find something they're interested in. Keep reading, and I'm sure you'll be able to find your perfect long-range shooting scope: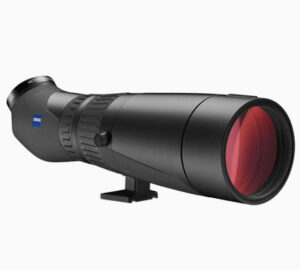 It is true that every year and month, the spotting scope is upgraded with tons of features, better clarity, and magnification. People tend to buy a spotting scope according to their needs and budget. But what about long-range shooting? Finding out the best spotting scope for shooting is hard. Yes, it was hard for me, too, but fortunately, I was able to research and find the best long-range shooting scope that anyone could buy, regardless of their budget.
And what scope is better than the Zeiss Victory Harpia 85 spotting scope? The Zeiss Victory Harpia spotting scope has every single feature that is important for shooting. Wondering what are those? Let's have a look:
Elaborate lens system:
I always say that quality lenses are the best part of the spotting scope. And the Zeiss Victory Harpia 85 spotting scope has a high-quality lens system. This is definitely important if you want to see the target clearly in all lighting conditions, including low-light shooting. And their custom-built glass lens system makes sure that image clarity reaches its best level in all viewing environments.
Duelspeed focus:
When I was looking for the best long-range shooting scope, I also wanted a scope that had fast focus. This is especially important if you're going to be shooting at long distances and high magnification levels, as it will help you keep your target in view of your lens no matter how quickly the target moves. The Zeiss Victory Harpia spotting scope comes with a Duelspeed Focus system so that you can shoot accurately even under high-pressure situations.
The 72-degree angle of vision:
Another feature that I looked for in the best long-range shooting scope was an angle of vision of at least 72 degrees. Fortunately, Zeiss has this feature in abundance with the Victory Harpia spotting scope.
Why it's best
A spotting scope can be called the best when it meets the specific needs of a shooter. With features like high-quality lenses, fast focus, and an angle of vision of 72 degrees or more, the Zeiss Victory Harpia spotting scope definitely meets these needs in a spectacular way.
But wait, there are more. Yet I haven't said anything about the magnification! You will be able to adjust the magnification level from 22- 65x, which gives you high magnification power when shooting at long range while still maintaining image clarity.
This spotting scope is also amazing for 3x zoom viewing, giving you the power to zoom in and see your target more clearly. I will never go back to shooting long-range without this scope now that I know many things about it!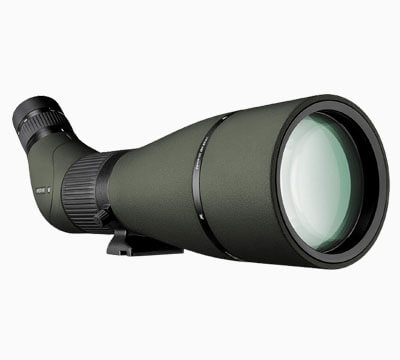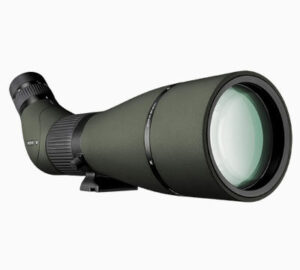 Spotting scopes are essential for any shooter, and Vortex Optics is a trusted brand that delivers quality products. If you're in the market for a spotting scope that offers both quality and performance, the Viper HD is a great option to consider. This scope is versatile and perfect for shooting in both low and high-light conditions.
I know, you probably think I'm joking when I say you can shoot in low-light conditions, but that's actually true! The Viper HD spotting scope features a high-quality lens that produces clear images in the dark. Add the Viper HD spotting scope to your shopping list today. Why? Here are some of the reasons:
High-end performance:
The performance of a spotting scope helps a shooter target and shoot accurately. I am super happy to say that the Vortex Optics Viper spotting scope delivers high-end performance. It has a fast focus system and eyepiece, making it easy to shoot under stress.
Smooth focus:
The eyepiece of the Vortex optic has a smooth focus system, ensuring that you can continuously adjust your view while shooting. You don't have to stop and re-adjust your scope every time you make a shot.
Extendable sunshade:
Oh, my favorite! The Vortex optic has an extendable sunshade, which is perfect for shielding your eyes from the sun while shooting. Whenever the weather starts to turn, this spotting scope will come in handy.
Why it's best
The above three features are just some of the most impressive ones. Now I will talk about its magnification level, diameter, and many important things. First, it has a 20-60x magnification range, which is perfect for long-range shooting. You don't have to focus on small details when shooting long-range. It's 85 mm objective lens and 19.6 mm eye relief makes the spotting scope very useful for shooters.
It's designed to help you view high-contrast targets in low-light conditions, making long-range shooting that much easier. When I looked through this scope, I was very impressed by its clarity. I hope you know that clarity is key when shooting long-range. So, overall, this model is truly best for long-range shooters.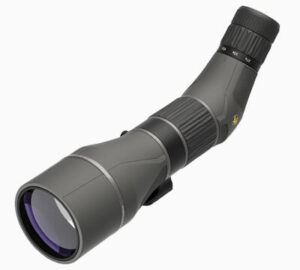 Shooters always get disappointed with the spotting scope quality of high-end rangefinders. Well, you don't have to worry about that anymore. The Leupold spotting scope is one of the best-quality spotting scopes on the market, and it's perfect for long-range shooting.
The magnification range is 27-55x80mm with a high-definition lens, so you can view details clearly at a long distance. It also has an illuminated reticle for better aiming in low light conditions or at nighttime shooting. Besides its quality and magnification range, I also really appreciate its lightweight design. Here are some of the features I loved the most:
Professional grade optics:
The quality of the lenses and optical systems in this spotting scope is top-notch. It offers clarity, magnification range, the field of view, and image quality that will make long-range shooting a breeze.
Lightweight design:
Leupold spotting scope is lightweight and easy to use even with extended shooting sessions, which is perfect for long-range shooting. Plus, its durable construction ensures that it lasts long without any issues.
Armer-coated:
This scope is completely protected from the elements with an armoring coating. I personally prefer this type of coating because it ensures long-term lens clarity and durability.
Why it's best
I know many shooters who highly recommend this spotting scope to others. During your shooting, you will get the satisfaction of accurate long-range shooting with this scope. I was really impressed with its overall performance of it. If you are bothering yourself with the question of why Leupold is the best spotting scope for shooters, then I have some strong reasons.
First of all, the quality of the construction is top-notch. This spotting scope is built to last, and it feels like it will handle a lot of abuse. The optics are also excellent. The resolution is really good, and you can see everything clearly, even at long range. One thing that I didn't like is its high price tag. I know spotting scope is costly but compared to other high-quality brands, this one doesn't compare.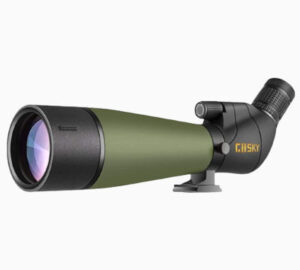 Even a few years ago, people struggled a lot while shooting long-range. With the invention of a high-quality spotting scope, shooting long distances has never been this easy. Though still some of them make a mistake by choosing a low-quality spotting scope, high-end spotting scopes have completely changed the game.
The best high-end spotting scope for long-distance shooting is the Gosky 20-60×80 waterproof spotting scope, which comes with a tripod and carrying bag. This scope comes with a lot of features, making it one of the most versatile and best-performing spotters on the market today. Here are some of its standout features:
Magnification and objective lens diameter:
One of the most useful features of any spotting scope is its magnification range. Gosky has a great magnification level of 20- 60x. All you need to do is set the magnification lens to the range you need, and you're good to go. As for objective lens diameter, this spotting scope has a whopping 80mm diameter, which is really big and will provide clarity when viewing long-range targets.
Dynamic lens focusing:
Another great feature of this spotting scope is its lens-focusing technology. This allows you to keep your target in focus while shooting, even if the distance between you and the target changes significantly.
Tripod:
One of the best features of any high-end spotting scope is its tripod compatibility. Most high-end spotting scope comes with a tripod, making long-range viewing targets much easier, both shooting and observing. This Gosky scope comes with a sturdy tripod that can support up to 3200 lbs., making it excellent for shooting activities.
Smartphone adapter:
The reason why I said this scope is modern quality spotting scope is the fact that it comes equipped with a smartphone adapter. This allows you to view your target on your phone. Imagine how cool it would be to view long-range targets without having to move from your shooting spot!
Why it's best
To be honest, it is the perfect tool for bird watching, wildlife spotting, and landscape photography. The tripod makes it easy to keep your scope steady, and the carrying bag makes transportation a breeze. The quick phone holder keeps your phone close at hand so you can take pictures or record videos without ever having to stop your observation.
Trust me; I will never go back to using a spotting scope that doesn't have this adapter. And the sunshade feature that I talked about before is adapted by this model too. Here the best thing is the price of this model. You won't believe how affordable the spotting scope is. Here are some of its pros and cons to consider: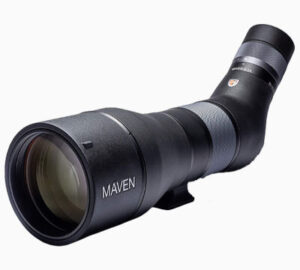 I know a person who uses this scope, and they absolutely love it. First, let me tell you how I found this scope. I was looking for a spotting scope that could serve multiple purposes, so when I came across this one on an online marketplace, it caught my eye right away. Through my research process, I discovered that this scope is perfect for long-range shooting, bird watching, and wildlife spotting.
Not only does it have tripod capabilities, but the field of view is also quite impressive at 25-50x magnification. And with the lens options of an 80mm objective lens or 50mm objective lens (depending on your viewing needs), you can be assured that the quality of your image will not be compromised in any way. Let's have a quick look at some of its features so that you can make a more informed decision about whether or not this spotting scope is the best for your need.
Long eye relief:
Why eye relief matters a lot for shooters because of the distance of your eye from the scope eyepiece, with long eye relief, you won't have to hunch over or crane your neck in order to view your target clearly.
Lifetime warranty on optics:
Another reason why I love this model is because of the lifetime warranty that is offered on its optic lens. No matter how long you use it or what happens to it in the future, you can always count on Maven spotting scope to provide high-quality images and quality performance.
Design:
Seriously, I am blown away by the quality of this spotting scope. The design is very attractive. I know the design of the spotting scope doesn't affect the performance, but a good spotting scope should be durable and attractive, preferably both.
Why it's best
Now, one important question that you might ask yourself is, "why should I buy this scope?" The answer is simple as well as complicated a bit. Don't you think the long eye relief and lifetime warranty are good reasons to buy this spotting scope?
But think about it a little further. The field of view of 113 ft/ 1000 yards at 25-50x magnification is really impressive, especially when you consider that most spotting scopes of this price range only offer a field of view of around 20x-40x magnification. However, I would recommend you give it a try, then decide.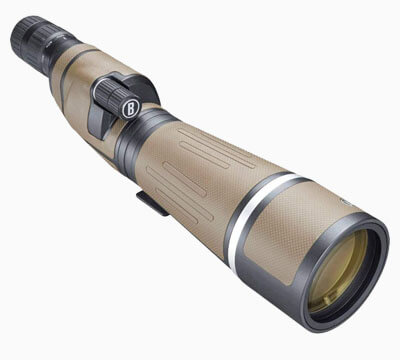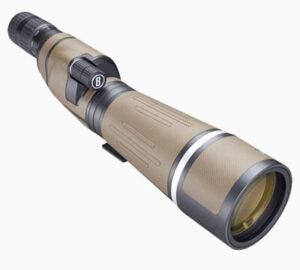 Our sixth-best spotting scope for long-range shooting is now to going be revealed. First, lemme bet one thing, you are probably wondering why Bushnell is included in this list when they make both binoculars and spotting scope. The simple answer is that they are the best of the best, and their products perform as promised.
Since I started my outdoor hunting journey, I have tried just about every high-end spotting scope out there. And Bushnell 20-60X80 is, without a doubt, the best scope that I have ever gotten to know about. My favorite features that make this scope so good include the following:
Performance:
Whatever you do, don't skimp on quality when it comes to a spotting scope. And Bushnell Ed Prime is, without a doubt, the best you can buy for long-range shooting. The magnification range of 20-60x makes it perfect for viewing things up close or within distance range, while the high-resolution optical lens delivers razor-sharp clarity and detail.
Durability:
Speaking of lenses, this scope will withstand anything, even rain, and snow. Durability ensures that you will not have to replace the scope for a long time, which is obviously good news.
Versatile:
I have never struggled with finding a tripod or mounting system for this scope. You will have tons of options when it comes to how you want to use the scope.
Why it's best
As you can see from above, there are a lot of good reasons why Bushnell Roof Prism Ed Prime is the best spotting scope for long-range shooting. But wait, there's more. Apart from spotting scopes, Bushnell also makes binoculars and monoculars. And just like their spotting scope line-up, they are of the best quality that money can buy.
What I like most about this brand is they keep expanding their range of products without sacrificing quality. However, our selected model of Bushnell is undoubtedly the best spotting scope you will find. You don't have to spend a fortune to get quality optics. Come on, consider Bushnell and get ready to shoot some long-range targets like never before.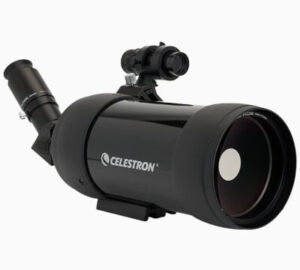 When you're trying to take a shot at long range, accuracy is everything. That's why Celestron created the Maksutov Spotting Scope. The Celestron MAK-90 is suitable for any field and provides a clear view of wildlife, distant objects, and more. Made with Maksutov optics and a 90mm lens, this spotting scope is sure to provide you with a wide angle of view.
Its angled design also allows you to get an unobstructed view of your target while maintaining the accuracy you need in order to hit your mark. This spotting scope is perfect for bird watchers or anyone who wants to capture an image that will last forever. Here are some noticeable features of it:
90 mm objective lens diameter:
Wow! 90 mm is huge! I mean, this lens is going to make a huge impact on the clarity of viewing and magnification. Just try to imagine viewing something at a long range and not having clarity of viewing or magnification. UGH! Not happening. This high objective lens diameter will provide clarity of viewing.
45-degree erect image diagonal:
This diagonal is perfect for those of us who want to view our target at a 45-degree angle. It also provides a wider field of view, so you can see more area of your target.
T-adapter threads:
This feature of Celestron enables you to mount the lens onto a tripod, monopod, or any other device with standard T-adapter threads. This way, you can easily take shots without having to remove the spotting scope from your tripod.
Why it's best
To be honest, this might not be the best of all, but I can tell you without a doubt- it will be at the top of your list. The magnification and clarity of viewing are just amazing. And for long-range spotting scope shooting, this lens would more than suffice.
Its price is unbeatable when put up against some of the others on the market. Its compact design is surely a good thing for shooters. If you look at its design, you may see the unique eyepiece housing- a nice touch. If magnification, clarity of viewing, and price are important to you in a spotting scope lens, then this is the one for you.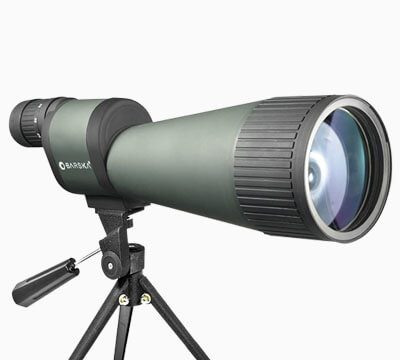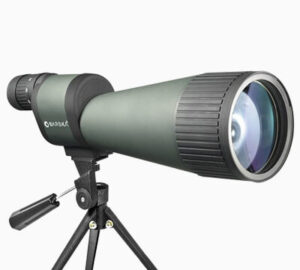 Shooting is not a joke for professional long-range shooters. When we can't shoot our target properly, it costs us in the long run. Accuracy counts and poor shooting can result in missed shots that could have been avoided altogether, costing you time and money.
That's why choosing a spotting scope lens with high magnification is so important, allowing shooters to view their target up close while still shooting at a distance. And when it comes to spotting Scope lenses, there are few better than the Barska Spotting Scope lens- offered by one of the best long-range scope manufacturers on the market today.
I can proudly say that Barska is my first preference among spotting scope lens manufacturers, as their quality speaks for itself. Here I am talking about some features of this high-magnification spotting scope:
Up to 125x magnification level:
My biggest concern with spotting scope lenses is eye fatigue, and thankfully, the Barska lens does not suffer from this problem. With a magnification of up to 125x, you can view your target very close, which is perfect for precision shooting.
Easy focus:
You may find this feature in many spotting scopes, but how many truly provide steady focusing? With the Barska lens, you can be sure of good shooting accuracy, steady viewing, and an easy focus system even in windy conditions.
25x zoom ratio:
Truly an OMG feature. At 25x zoom, you can view a target from a long-range, even up close. This is perfect for viewing targets of varying sizes, from small animals to large structures. Honestly, this is the spotting scope you may need for your shooting profession.
Why it's best
Can you guess what will be the price of this model? You might be thinking more than $1000. Or $2000? Surprisingly, this spotting scope retails for just under $200, a price that can't be beaten in quality and magnification.
Now come why it's the best and a gem for shooters. What makes a scope perfect for long-range shooters? Simply, its magnification, zoom, eyepiece lens, focusing system, and construction. Luckily, every single feature is available in this pick from Barska. Yeah, it's true that it doesn't have some modern features available.
However, with long eye relief, shooters can view targets with ease at extended ranges. And this is a great spotting scope to use for precision shooting where precision and clarity are key factors such as hunting or target shooting.
Final Words
Hopefully, I have covered all the major aspects in this post about the 8 best spotting scopes for long range shooting. Keep scrolling to find out more articles like this one. Before that, do remember to use a good quality scope, plenty of practice, and patience when it comes to long-range hunting or target shooting. Now that I have told you about the basics, do head out and find one of these scopes for yourself. And if you like what you see, share your experience with us down below.